I havenít blogged in a couple of weeks. There was one week I barely even did status updates. Thereís a reason for that. Itís been a rough couple of weeks. But thereís something that Iím taking away from it and I think itís SparkWorthy enough to share. Itís something I already knew, but have an even deeper appreciation for now.
Community matters. Iím not talking about your town, or where you live, necessarily. I mean real communityó people you do life with. These last couple of weeks, I have seen my little community rally around a family who unexpectedly lost a precious nine-year old. The love and support have been inspiring and encouraging, in the midst of such loss.
Those same people stood shoulder to shoulder with me, helping me get caught up with work I couldn't possibly do on my own. They helped finish building a set, shoot video and design last-minute graphics. They brought my family food, because they knew we didnít have time to feed ourselves. They took care of us. That is community. We don't have family in town and couldn't travel to mine for Thanksgiving this year. So, some of our friends hosted a Transplant Thanksgiving, for people who don't have family in town. It was a houseful of "framily" (friends who are like family) and it was incredible. That is community.
Hereís the set they helped finish. I think it turned out pretty cool.
I believe that sense of community easily transfers itself to a SparkJourney. Itís very easy, and sometimes tempting, to keep a struggle with weight loss and health a secret. It can be embarrassing and frustrating to share both the successes and setbacks. But Iíve chosen to share those, to be very public about it. And Iím glad. It keeps me honest, but it also keeps me encouraged. This week, my buddy Tom (from 40,000 Step Challenge fame) got a new FitBit and he gave me his old one. Why? Because heís my buddy and it was a nice thing to do. He couldíve sold it, but he wanted to see me back on the leaderboard and back in the game with the rest of my FitBit buddies. Iím ecstatic!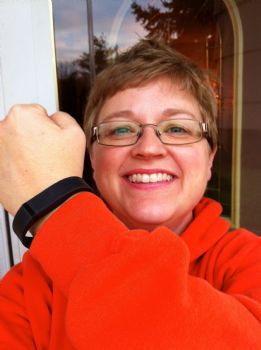 Back in the game!! (But the new sync erased my 40,000 Step badge!!)
Jodi, one of my SparkBuddies, knew I was having a rough couple of weeks and she sent me this Christmas, Kermit the Frog shirt. Why? Because sheís awesome and she knew Iíd love it.
Kermit!
But itís not just about gifts, although Iím extremely grateful. Itís about people checking in with me, making sure Iím okay, that Iím on track, that I havenít lost my woohoo. (I havenít, by the way. The streak is intactótoday will be Day 968. And my woohoo is coming back.) I know for a fact, there is no way I can lose another 20 pounds on my own. Thatís just reality. Itís going to take a community and I know that. I rely very heavily on the support, advice and humor from my SparkCommunity. And I hope I can be there, to encourage and support other people on this journey, because I really do think it takes all of us.
Spark ON, Brave Sparkers!