Hi everyone, there is a lull in the action out here and I miss my Spark-buddies. I'm trying to tap this out on my IPhone while sitting in a truck waiting for a call. So far, knock on wood, everything is running smooth, no drop and run disaster calls :)
So far I've been doing fairly well on this round of nights, on 12's for the weekend then I finish up the set of 7 nights with two more 8's after this and I'm on long weekend. This is where I start setting goals for the next 21 days until I rotate back to nights. That helps me to stay focused on something positive. Any work toward my goals on nights is extra credit.
I've made some great progress on the strength training front. I'm really proud of myself. When I started I was very weak in upper body strength while I was very strong in lower body due to the running and cycling. I've made great strides both at home and during my training sessions at the gym.
I've started being able to do kettlebell snatches at 55 lbs, overhead presses at 40 lbs, endurance reps of KB swings at 55lbs (30-40 reps) strength reps at 80 lbs at 15-20 reps and double cleans (cleans with 2 40lb) and now I just added a new member to my kettlebell family.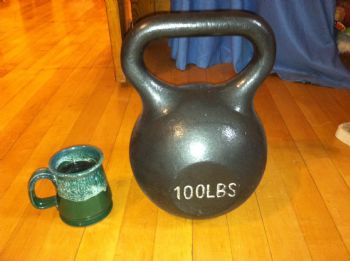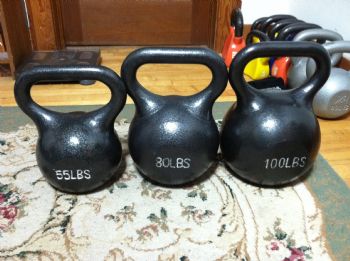 I added a 100 lb kettlebell for doing lower body work, dead lifts, and of course... Swings.
I did a few tonight and it felt good. Did about 10 solid reps. It wasn't that long ago that I struggled to swing 25 lbs. I've come a long way. It also felt good to be able to pick it up with 1 hand and walk across the room with it as I brought it inside. Climbing the stairs to put it in my office was really tough...
Then I realized.....
This is what life was like everyday about 4+ years ago. What a potent reminder. Not only can I workout with what I've lost but it also a stark reminder that represents my old life.
It feels good and is so affirming when I see the progress I've made. Strength training pays big dividends everyday from picking up my tool bag and climbing to the top of a conveyor system without dropping dead to the looks I get from my kids when they see dad work with weights and they know how heavy it is and they also remember what I used to be.
Yup, dad still has a little going on :)