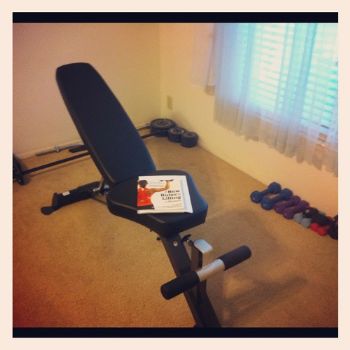 Late summer last year, I read The New Rules of Lifting for Women. I loved the book and the six-month program it laid out. I started the program right away last fall, but after a few weeks, I quit. There were two reasons for this:
1) I do not belong to a gym, and don't have a squat rack, so I was curling my barbell up to my shoulders before doing squats. I can't curl nearly as much weight as I can squat, so I was pushing my arms/wrists to extremes for minimal poundage on my shoulders, and ended up injuring my wrist.
2) I had just come off a three-month exercise ban due to stress fracture, and hadn't lost weight in months. I decided I was more interested in trying to lose weight quicker than in building muscle. I decided to hold off on this program until I hit my goal weight.
In June this year, I decided to take the rest of 2013 off trying to lose weight, to just maintain instead. I thought it would be the perfect time to complete the NRoLfW program, but unfortunately, I didn't make it very far this time either, and quit, again, for two reasons:
1) In order to make sure I didn't get re-injured, I decided to use much lighter weights, which basically nullified any results I could actually get out of the program.
2) One of the symptoms of my gluten intolerance - which I hadn't yet discovered, but which had gotten really bad by this point - was a bizarre kind of bone and organ pain that popped up all over my body when I did any strength training at all, even very light ST. So doing just one New Rules workout? Made me feel sick and achy - but NOT in my muscles - for days.
That, however, was all in the past! In the present, I am:
1) not injured!
2) trying to get stronger rather than lose more weight!
3) not eating gluten, so my body no longer hurts all the time!
So I've decided to give the New Rules of Lifting for Women program another chance. I start all over again today with Stage 1 Day 1. I fully accept up front that in order to compensate for my lack of a decent home gym, I will have to modify some exercises (like doing dumbbell squats instead of barbell squats). I also fully accept that my body will have to adjust to doing heavy lifting again, and will be sore for the first little while. Lastly, I fully accept that my weight will temporarily increase as my body spends a few days (or even weeks) repairing muscle and adjusting to my new program. I will not let any of these things stop me. This morning, I start, and I hope to finish the program in May.
To make things better, I found a Spark-partner who is also beginning the program today, yay! So Jennifer (JR0124) and I will be doing this together!
I took starting photos and measurements, and will take progress photos/measurements along the way. I will attempt to take these all from the same angle, lighting situation, etc, so they don't look like the obviously-faked before/after photos you see on all those programs advertising ridiculous results in 30 days (Beachbody's Insanity Asylum, anyone?? Have you guys seen how fake those photos are??).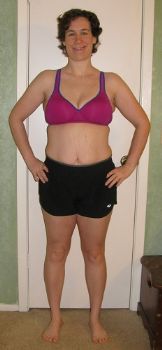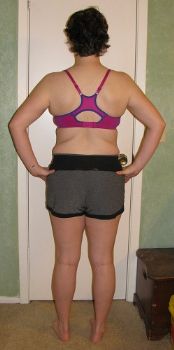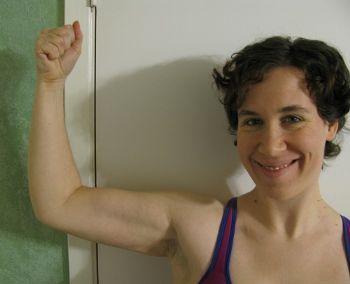 Full disclosure: These pictures were taken after about two weeks of eating like crap, so I'm bloated around the middle and up a couple pounds of water weight, which is going to affect my before/in-progress/after shots and measurements, unfortunately. It's the holidays. I really do need to do better!
PS - I hope everyone had a safe and happy Thanksgiving!!
ETA: Jason was apparently planning to get me a home gym for Christmas and decided to give it to me today instead! I *never* go out for Black Friday deals, but Sports Authority had a fantastic deal on this Marcy 150-lb home gym and so we ventured out (and thankfully, there was very little crowd). This doesn't help with my squat issue - still using dumbbells - but it means I won't have to substitute for some of the other exercises, like seated rows and lat pulldowns. Yay!