Attitude of Gratitude
Friday, November 29, 2013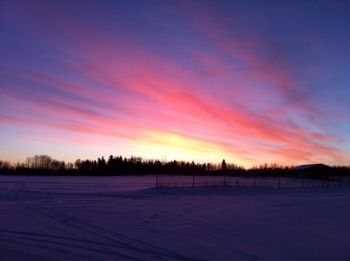 Those who know me, for sure know that I'm a huge fan of the sunrise and sunset. I snapped this one on my walk to work this morning. It was -23C, but no wind, so it was a nice refreshing walk. I was very thankful about the 'no wind' part of my morning as the winds have been crazy around here this month.
And that thankfulness got me to thinking that I need to get back into the habit of giving thanks for the wonderful things in my life.
So today I am thankful for:
1) That gorgeous sunrise that started my work day
2) My wonderful spouse who notices that the wind has picked up and comes to get me for lunch so I don't have to walk into the wind to come home.
3) Learning that a niece and family from far away will be with us for Christmas - what a joyful message that was to receive tonight
4) planning our 26th anniversary supper with friends for next week. They make me smile and are so much fun to be around.
Yes, life is good!