On Thanksgiving Day 1997 I found a big box of photos in my parents' house. I sat with my Dad for hours while he told me about each one and I wrote the names, place and date on the back of each. Eventually, I included these photos on my website. Two weeks later Dad contracted an antibiotic resistant infection and died just before Christmas.
This is one of the photos we discussed on that last holiday together.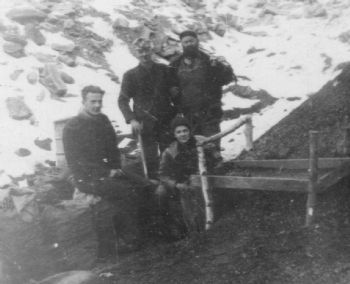 During the depression many families maintained "bootleg" coal mines. Yes it was illegal, but with the low wages paid by the mining companies, it was the only way to keep their families from freezing during the winter. One of the men in the photo was killed at age 21 as a paratrooper in WWII. His grandniece found my photo online. This was the only photo she had ever seen of her uncle.
Many of you have read and commented on my blog about my website documenting my Dad's WWII ship. Since the latest massive redesign and update, I've been contacted by many families searching for information about their own sailor veteran. Some have found images and references in the photos and documents and provided further identification for me to include.
This is a plea/suggestion to all who have memorabilia of any type in their possession or discover it among the keepsakes of older relatives. Before you toss it out, consider who else might be interested in seeing it. Also, if you can, include captions on photos. I know this takes time whether on a physical picture or a digital version. Someday though, a great grandchild may appreciate your effort.
The depression and the stories of those who lived through it are now but a distant memory in the minds of a dwindling number of survivors. The USS Philadelphia was but one ship manned by a crew representing a tiny percentage of servicemen at that time.
However, history should not be told only by famous and powerful leaders. History is a tapestry woven by the threads of individual lives. Their stories and contributions count too. If possible, take a moment to document yours.
Happy Thanksgiving to all my fellow Sparkers.