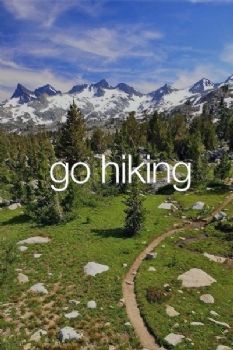 I never have felt SO NAKED !
I lost my dear, little Fitbit.
Hubby and I had to get out of the house and walk. We have been busy searching for a new mattress. We went two days to stores searching. It's super hard to find a mattress that we could agree on. While we both wanted a firm mattress, I didn't know that there were so many different types of firms. He liked minimally padded, rock hard firm mattress at the first stores. When I initially lay down on the beds, they felt OK, but after a bit I felt like someone clobbered me with a hammer all over my back. My body ached.
The next day after being adjusted by the chiropractor we went to another store. I laid on a few bed and I was thrilled. I grabbed hubby and said I like this one. It's firm, but it has a nice pillow top so it's cushy. I don't feel all beat up. They had many beds by this brand, but we agreed on one. YEA. The sales girl looked to be in her 20's. We told her since the bed was not on sale we wanted two free pillow and free delivery, and no tax. She agreed. She rang hubby up with a smile on her face. She slid one paper under another, handing him one to sign that had the no sales tax and free pillow price. He signed. We got home and his receipt said another price. She added in the sales tax. It was so sneaky. She said she never meant to give us free taxes. She kept trying to change her story. She lied. Hubby said if you don't change the bill and honor your word then the transaction will be canceled. It was only then did she refund the proper amount. That's why we had to get out. We were stressed.
I got changed into walking clothes. Hubby asked where I wanted to walk. I said anywhere. He decided he wanted to go to a historical trail above Whiskey Town Lake. In the beginning you walk over a couple of wooden bridges over a large creek that flows over some rocks and a glittery sandy bottom. Salmon were laying their eggs in the clear waters below. It was lovely. As we crossed the bridge an older lady came up to cross. She had a rock in one hand and a golden retriever in the other. I asked her if she found a treasure and her face lit up as the golden sat on my foot and leaned against my body. She showed us a rock filled with fossils as I unknowingly petted her lovely skunk scented dog. He was such a nice dog, well mannered. Fortunately the skunk scent didn't last long on my hand.
We hiked past an old historical house, past a barn, beyond the care takers cottage. Our trail took us up by an abandoned gold mine that was fenced up. The trail was packed with acorns making the footing tricky. The ground was wet from the rains that passed a few days ago, the air was cool, brisk and smelled fresh. The sounds of the freeway left as we pressed deeper into the woods. We went up and over a winding trail that followed the creek where they mined gold. I kept my eyes open for a glimmer, hoping, dreaming. . .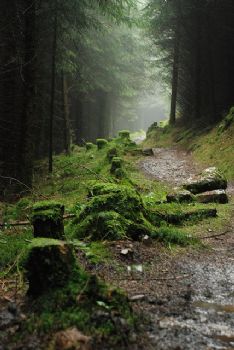 The farther we walked into the woods the deeper the moss grew on the trunks of the ancient oak, cedar, and pine trees. A bit off the path a small tree was bent over like an arch, covered with thickly with moss. I imagined it looked like a place that if faeries existed would like to go under to watch an event. Next to the arch laid a giant tree covered with more moss, so one could sit comfortably and watch events. We walked further up the trail until it ended where the creek crossed over it. If we had wading boots perhaps we could of gone on further. For us it was the end of the trail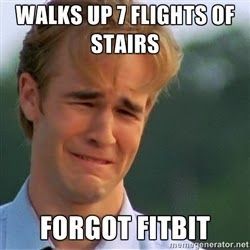 On our way back we met the Canadian lady exploring the fenced off mine. She was traveling alone from Canada going rock hounding. Her next stop was the Agate beach on the coast. Wow. My favorite place.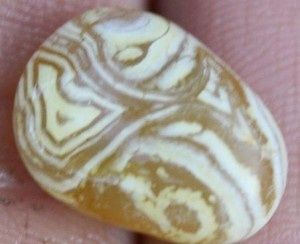 As we hiked I had the feeling like I was moaning a long lost friend. The step count would of been going higher and higher, but without my little buddy who knows how far I really walked. It felt like a GAZILLION MILES. My legs were exhausted by the time I made it back to the car. It was uphill for half the walk. I DID GOOD. I did SUPER good for me on the hike. I walked uphill for a long distance, which for me with the MS is super hard. I felt like I achieved lots of improvements in my walking and gait over the last two months. The Bioness and the new homeopathic patches for MS are helping along with the juicing.
The good news is I found the Fitbit when I got back home. It was on my first set of clothes I wore earlier in the day.