Sorry I haven't been on much this week. I've been thinking for a long time that I have really gotten in to a rut, so as I told you earlier, I decided I need to find some kind of hobby. I wanted to find some balance in my life. For the last year, my life has pretty much consisted of work, church, and Spark. So, when the opportunity came, I took a sewing class. Sewing wasn't something I have ever been interested in learning, but it just happened to be the first thing that came up, so I grabbed it. Anyway, turns out that I love it! It is so much fun to create something with your hands!
So, as I told you in the title, I was trying to find balance in my life by adding some kind of hobby. Turns out, balance really isn't my forte - lol! I have spent every waking moment that I was not at work, sewing! No tv, no cooking, no cleaning, no computer, no Spark, no nothing except sewing! Ugh!!! I guess I haven't come as far in my all or nothing attitude as I thought I had. In trying to get some kind of order in my life again, I went out grocery shopping Saturday, but then I came home and cooked ALL the meals and froze them so I would have more time to sew this week while I am off from school! Ugh! So much for balance - lol!
The good news in all of this is that, while I didn't Spark much this week, I did continue to maintain, so I didn't let the food get out of control while I was so hyper-focused on something else.
I'm going to try the balance thing again this week, so I'll let you know how it goes! Hope y'all have a wonderful Thanksgiving week! Here are a few pictures of some of my creations this week!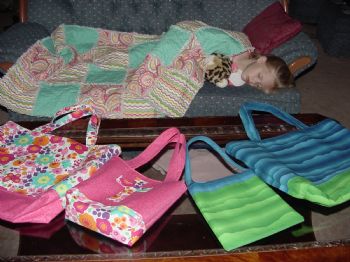 This is how I found Itty Bitty this morning! (yes - I made a quilt too!) She picked out the material for the bags. The big blue and green she said is to carry her build a bear in (that's the leopard that she's sleeping with). The little blue and green is to carry all of his accessories in (she picked more masculine colors since he is a boy - lol!)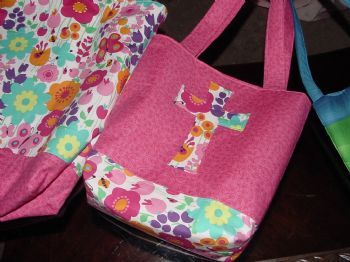 This is my favorite! This is a Bible bag that I made for her on Saturday (after I went shopping and cooked al the meals for the week). I even put pockets inside for her to carry her pens and hi-lighters!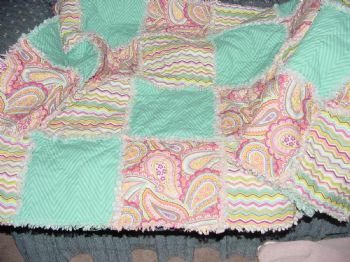 Here is a close up of the quilt. It, of course, was the most time consuming, but also the most fun to make!
I'm sure I will be making many more in the months to come! I cannot believe how much fun it was, and I haven't had fun in my life in a long time! I will, however, try to find a little more balance, so that I will still have time to maintain my home and Spark with all of y'all!

Dachelle