Basic Kettlebell Workout
Saturday, November 23, 2013
I put together a 10 minute video where I grunt through a kettlebell workout. I was originally doing it as a way to watch my form but then said to myself "why not?" Let them see work hard, sweat, gasp, grunt or otherwise let it loose. I wanted to do it not so much as a demonstration but rather I wanted to set the example and let myself be seen wiggling and jiggling. I'm more interested in getting a good strength session in than I am worried that someone might see a moment or two of jiggle.
Frankly, if you look proper during a workout, you are not working hard enough, simple as that. Set the example and let 'em see you sweat.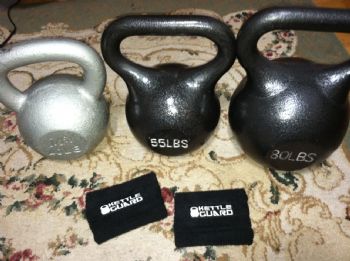 The black wrist guards are not an '80s throwback but rather arm guards with inserts to protect the forearms when doing cleans and snatches... my arm can really hurt if I dont use them.
Kettlebells used
40lbs - one arm alternating swings, snatches, and squats
55lbs - swings and cleans
80lbs - swings