Is the grass really greener,on the other side??
Friday, November 22, 2013
For the last few days we have had one of our rabbits on the loose. We have two girls and two boy rabbits. And we used to let the boys roam free in the back yard. We have a great back yard for pets,and there is a hill with so much grass and things for them to eat. But don't ask me why but they are just not satisfied. They always would sooner or later find a way out onto one of the neighbours properties or out on the street. Plus they ate half of Dwayne's tress he was proudly growing and his vegetable garden. so the boys have their hutch and the girls have their one too. The girl rabbits like digging burrows. And that is their tunnel out of their hutch-to someone else's house. They come back home when they escape, but only so far. They don't come willingly up to us. And it is the rabbit who is on the loose at the moment who is the least friendly. We managed to get her back in her hutch last weekend. Now she is out again. It has got really embarrassing because people we haven't even met arrive at the door to tell us about our rabbit on the loose. We have had so many people coming over to tell us about our rabbit, with the cats eyeing her up. they are also our cats, and they aren't that bad with the rabbits. Two of the cats chase them, but the other two don't bother. It is like playing bullrush trying to catch the rabbit.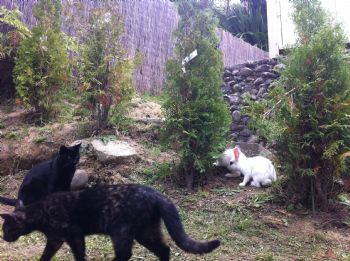 The picture is not of the rabbit on the loose, but one of the boys. They ate the lower part of them tall trees growing up the staircase. They were there so we wouldn't fall. Dwayne ended up pulling the trees down, and we are going to plant more. So that is my excitement so far for Friday. I am in a much better frame of mind than I was the last week. And I have been reasonably good healthwise.
I hope you all are ready for a really happy, healthy weekend. I am , I haven't got anything amazingly exciting organised. But I am going to enjoy my weekend. I hope you do too!!