Friday, November 22, 2013
Today was a very long day. I had a dentist cleaning this morning first thing and when I showed up to work I had completely forgotten about a lunch meeting. So I ran off to the meeting and they had food there, of course. Since I'm supposed to be adding vegetables to my meal plan I decided to grab the healthiest thing I could find.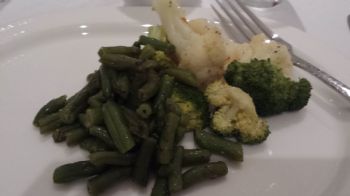 Green beans, broccoli, and cauliflower.
After the meeting I ran home real quick to get my lean and green together because I had planned on eating it at lunch to go straight to the movie theater after work. I steamed some broccoli and got 6 veggie sausage links and off I ran back to work.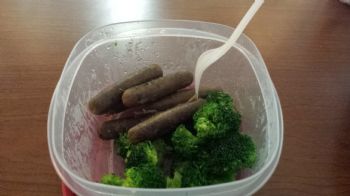 Work was so crazy that I forgot what day it was. It was nonstop. I got off at 4:30 and drove straight to the movie theater. Still haven't had a break all day. Kinda stuffed food into my face during meetings. I park and join my group at our seats. One of my coworkers had arrived at 2 just to get the best seats and sat there because the 1st movie didn't start until 5:20. They all tried to tempt me with the popcorn. OMG. So much popcorn. Oh, and it smelled pretty good. But I said no for about 5 minutes and they stopped asking. I survived 6 hours inside a theater without eating their food. PHEW.
Catching Fire didn't start until 8 PM. Not ruining anything but it's so freaking awesome. Way better than the 1st. Now I just got home at 11 PM. It's been a very long day but at least tomorrow is Friday and I have this experience to remember.