Monday, November 18, 2013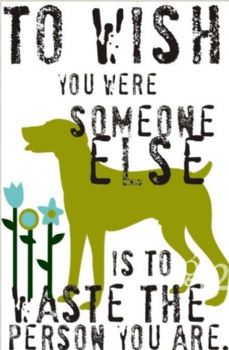 This is the third quote that smacked me hard on Friday. I have spent the majority of my life trying to be things I am not. I have stopped doing most of this. I no longer dress or do my hair to please others. I please myself.
But I have realized that Iím wasting who I am on trying to look a certain way. See, Iím a Croatian Gypsy. And people have very specific ideas about how gypsy women should look. I will never fall into that stereo type! I have a true Slovak build, so Iím never going to be long and thin. My mom was also half Irish, and we both got that skin. So letís just forget about the bronze radiance.
But just because I donít LOOK like how outsides think I should doesnít mean I canít use my rekindled confidence to dress and dance the part. My great aunt taught me some of the fire dances. I donít know how much I can remember but I want to try it again. In my teens and early twenties I was very graceful.
Now I move like pregnant yak! I know I can get it back. How is the issue? Iím thinking yoga (which I really donít like) and Qi Gong should help my grace and flexibility. Once again ST will aid in my ability to move correctly.
Basically, I just need to get back to who I really am. And she is a pretty fun and different person.