Itís been a pretty long time since I wrote a really personal blog. Lately my blogs have been teaching blogs, like how to carb cycle, or motivating blogs, like how my client Lisa lost a bunch of weight and wins triathlons. Obviously I use my blog as my outlet to help YOU get into shape. But I havenít spoken on what Iíve been up to lately.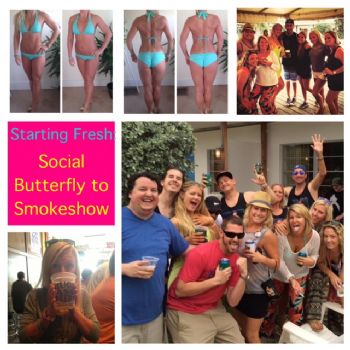 Since September I have really been a social butterfly. My bff came to visit me from Florida for a few days. We tore up the town, that is for sure! Immediately after she left I flew to Las Vegas with my other bff and worked the Vitacost.com booth at the Olympia. By the time I was done with those two big events, I was exhausted and ready to eat clean, workout and rest.
But a week and a half later my boyfriend and I went to New Orleans and to Baton Rouge for an LSU game, and had a freaking blast. That is probably now my favorite US city, maybe after New York CityÖ not sure. I love them both. The people are so friendly, the city itself has so much culture, there is a ton to do and see, and the food.. OMG.. the food is unreal. Every single meal I are included something fried and/ or a biscuit. I did not hold back one bit while I was down there.. ITíS FREAKING NOLA.. Gotta live it up!!!
Then, my bff had me fly down to Tampa two weeks later for her birthday and to spend a weekend at St. Pete beach partying with our friends. Leading up to all of these travels I had been on point with eating clean, my carb cycling and I was feeling really good about my body. And I knew very well that these two months were going to take a toll on me.
But you know, thatís okay. I had so much fun and that is what life is about, right?! But life must also have balance. I canít travel and party 24-7. I have to calm it down get get serious about my goals, my body and training too, and you know, because I went off the deep end for a little bit, I am actually really excited about getting serious again.
Last weekend I had a two day Crossfit competition Ė the Southie Showdown. This marks my one year anniversary of competing in Crossfit. Last year when I competed at the Crossfit Southie Garage Games, I came in the top ten of the prescribed division and I told myself that I was never allowed to go back to scaled again. Since then Iíve done two other individual competitions and three other partner/ group competitions.
I did not do as well as I would have liked. Iíve been dying to come in the top 50% in a competition and itís yet to happen, and it certainly didnít happen at the Southie Showdown. I took 4 seconds off my 1000 meter row time which I was thrilled about, I got the exact weight on clean and jerk I knew I could get if I tried hard, I did more chest to bar pullups than Iíve ever done before (27!!! Ė those are my goat!!), I killed the chipper, I did pretty good on Helen, but I blew it on my two rep max front squat (145# Ė Iím bad at those) and I REALLY blew it on the wall ball and double under workout Ė my hands were so cold the stupid wall ball kept slipping through my hands. I have Raynaudís.. I have no business living in the stupid northeast.
For a moment there, when I saw how poorly I was doing going into day two I got really upset. Itís not fun to be bad at something. Thatís how I felt. But then my girlfriend ďtalked me off the ledgeĒ as well call these talks, (we have to give these talks to each other on a somewhat regular basis in Crossfit) and reminded me that Iím going up against division one college athletes. What was I doing in high school and college? Eating Doritos and drinking PBR. So I guess I shouldnít say Iím bad at Crossfit, but Iím just not good.. YET!
So here I am, getting back into my groove. Iím taking some time off from my social life until I have another girlfriend visiting at the end of November. Iíve enlisted the help of my coach to give me a plan to focus on my weaknesses Ė gymnastics, front squats, running sprints and overall strength. Itís time to start doing some two-a-days. Iím also back on hardcore carb cycling and a little more strict Paleo. (That pizza I had last weekend after the competition RUINED my stomach.. ughÖ It was tasty but the way I felt after made it so not worth it!) Carb cycling and Paleo work for me! I recommend YOU figure out what works for you.
All of these other things like adult beverages, not getting quality sleep, traveling all the time.. these things are taking away from those fitness goals I set at the beginning of this year. It has been fun being a social butterfly, but I think working out is just as much, if not more, fun!!
So here you go.. here are my REGRESS pictures. The ones of the left were taken in September after a couple of months of serious carb cycling. But like I said, Iíve relaxed a lot over the last two months and now itís time to get serious again!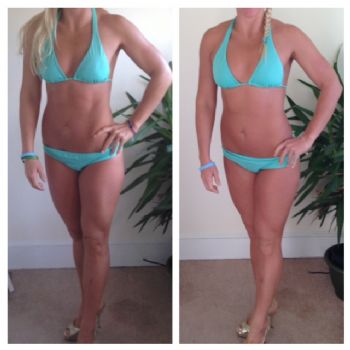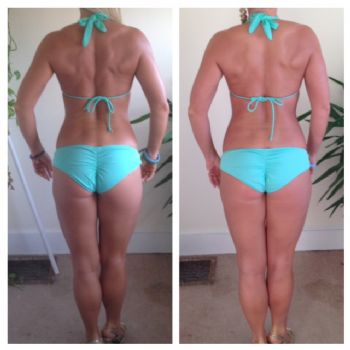 How do you balance your social life with your fitness goals?
Leave me a comment below and share how you handle it.
Kyra,
The Get In Shape Girl