I have reached goal before.In 1993 I was at goal for about 10 minutes. The problem was, I had the losing weight part down pat. The articles, classes and groups all focused on how to lose weight, not how to stay at goal. In 1993, Weight Watchers (which is how I lost my weight) had a maintenance program, but a leader was needed, so I was pushed through to take a few classes as soon as I reached goal. Furthermore, I was replacing the only leader in town.
In 1994 I injured my knee and had some major surgery including a laparotomy to remove the excess skin from my abdomen. With the surgeries, came a break in exercising and a loss of momentum.
With maintenance, as with weightloss, much of the battle is mental. The laparotomy was supposed to make me feel sexy and vibrant again. What it did was emphasize (to me anyway) the excess skin on my legs, arms, neck and other places. To my inner eye, I was an utter failure and had failed to re-make myself in spite of a 160# weight loss. In other words, I gave up.
I gained back about 40# over the next 8 years, then my late husband got sick. For the next 26 months I literally lived in hospitals eating hospital food, fast food and sitting at my husband's bedside. I gained an additional 90-100# back putting me almost back to my starting weight.
Over the next 8 years I yo-yo'd 20-40# once or twice/year. Last August (2012) I got serious again. I decided that I would never do this again.
With the help of Sparkpeople and some intense focus, I lost 136#and passing my original "final" goal, then 2 more "final goals" before settling where I am now. With Sparkpeople, I have learned to accept who I am. I am not EVER going to have a firm 25 year old's body! I am a 56 year old grandmother.
Maintenance is becoming as comfortable as dieting and the fluctuations are becoming less alarming.
As a teen, I remember my aunt, who always wore a size 9 and weighed 110# would gain 5# so she would cut down on her calories for a day or two and be right back where she started.. Aunt Marcella would eat 5 or 6 times daily. She would get up to oatmeal or an egg and toast with 2 slices of bacon. Then after scrubbing floors by hand and doing her morning chores she would take a break for a snack. Usually she had freshly baked pie or a chocolate cake or gooey chocolate chip cookies. She would have a small portion, leaving the pie crust or the cake icing on the plate.
Lunch would be half a sandwich and a small handful of chips. Afternoon snack would be a chunk of cheese and a couple of crackers with maybe a few grapes. Dinner was a roast or other meat with potatoes (Hey! We are from the midwest!) and a couple of veggies. There was popcorn for a bedtime snack.
My point is, if we want to be thin, we need to live like thin people do! I now weigh daily. When the scales show that I am up a pound or two, I review my diet.If I have stayed in my range and on plan, I don't alter my course. If I have been eating a bit more than usual, I decrease my calories by 100 or 200 for a day or two, then I am back to my goal weight.
With Sparkpeople, I know that I will continue my healthy lifestyle and my healthy weight. I have the support here, the experts to ask when I have a question and the tools necessary to monitor myself.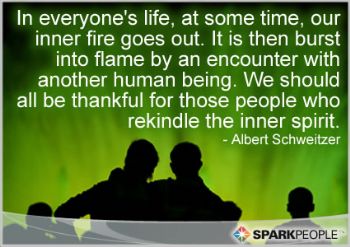 Today I am thankful for Sparkpeople!