I haven't blogged in quite a while! Part of the reason for this is that I have started focusing my efforts on paid writing gigs and developing a freelance writing business. I will be writing primarily for health and wellness and also for veterinary medicine. I finished my first article for publication (and for pay!) for a strength training journal and it will be published in January (details to follow).
I am also working on a book (or possible series of books) on creative life change. Actually, a lot of the material comes from previous blogs. I will keep you updated! In the meantime, I have almost finished a blog entry on bullying (which is also chapter work for the book); it just needs some editing and my goal is to post it tomorrow.
I got hired as a personal trainer at a local community center; I start tomorrow. It's hard for me to believe that after dreaming of being a trainer for so many years that this vision is coming to fruition. I was hired based on the fact that I have a Bachelor's in exercise science, as well as my athletic experience being a runner, triathlete, and martial artist. I will need to take a personal trainer certification exam, which I plan on doing in January.
Massage school keeps me pretty busy, of course, but is going well. I adore my massage teacher, and luckily his style is very compatible with mine. I am learning a ton and really enjoying the process.
I competed in late October and won first place. I was so nervous about competing, but my teacher Marcelo kept telling me that he had full confidence that I was going to win. I guess I need to listen to that guy.

Here are some recent pictures (from late October):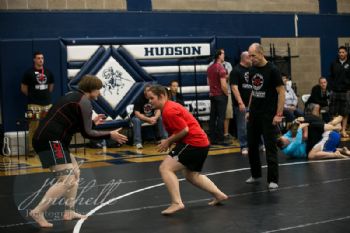 Beginning of one of my matches in October.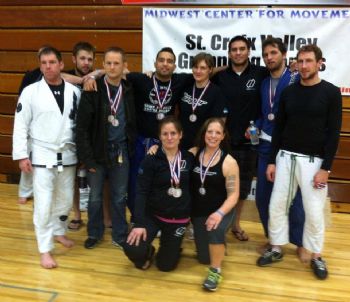 My shiny teammates after competition. I'm in the back row and my teacher Marcelo is next to me.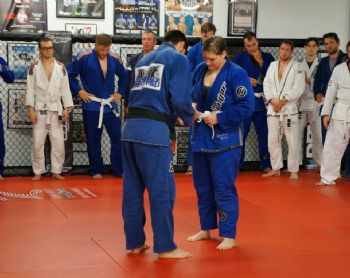 Marcelo awarding another stripe to me a few weeks ago. I will be testing for my blue belt (second "level" in Jiu Jitsu) in about a month.
Me and UFC fighter Robert Drysdale after he taught a seminar at my gym.
This year had started out so hopeful and positive, and then I (understandably) struggled after my dad died in February. I admittedly took advantage of the "who gives a sh!t" mentality after he died to make some drastic changes, but it seemed the only way to cope with the grief. The sadness and anger part of grieving sucks, but I was also willing to take leaps that I didn't think were possible. I am a smart, creative, and talented person and I am finally working towards a life that fosters all of these things.
Okay, gotta go get ready for Jiu Jitsu class. Hope all is well in your world! Please tell me how you're doing!