Sunday, November 17, 2013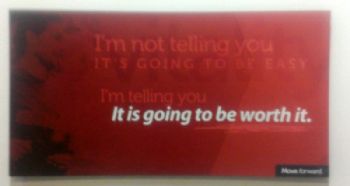 It hangs in the lobby of my gym. It's one of the first thing I see every day when I walk in to get my workout on.
It says "I'm not telling you it's going to be easy. I'm telling you it's going to be worth it."
The sign speaks the truth. It's not easy. It's a struggle to get their each and every day. I'm not one of those "Put a smile on your face and sing The Sun Will Come Up Tomorrow." Some days it's hard to work through the pain and soreness. It becomes a tempting excuse.
"I have back issues."
"I have arthritis."
"I don't move as quick as I once did."
I still move, I still breath and I am still alive. If I quit the pain wins. A sorta physical "Needer-needer-needer."
I have a purpose.
I will beat the pain.
Oh, I know it wont go away and yes it will slow me down and maybe I wont ever run again, but it wont win. Like death and taxes it's always there. But with each workout is has just a little bit less control over how I think and how I act. I wont use my pain as an excuse and like the school yard bully it looks in my eyes and understands that there is no victim here. It needs to move on.
You have to draw a line in the sand and say this is where I begin, and some of us add "This time I really mean it." It doesn't matter how often you begin, it matters that you keep beginning. No one cared about Edison's thousand failures. We only marvel at his one success.
It is worth it and deep down inside you believe it also.
We're all in this together.