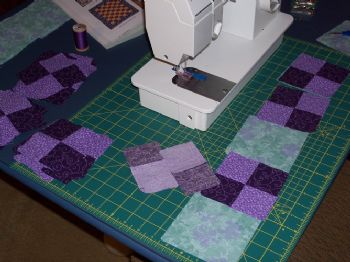 I want to quilt. I want it bad. Yet, Iím pretty awful at itóI think itís the sewing part (ha!). I like to think of itówith apologies to Melvilleóas my Captain Ahab moment, with the quilt being Moby Dick. Iím in single-minded pursuit of perfection in a four-patch block. Alas, it doesnít always work out that way. Here are some of the things Iíve learned, and they surprisingly fit right in with trying to get healthy:
Measure twice, cut once. Itís mega-frustrating to have to re-cut fabric, especially when it could have been prevented by merely looking at the direction of the fabric and measuring correctly. I first heard this saying from my husband who does some carpentry, because it applies to wood as it does to fabric. And life, too: snap judgments can hurt. Take time to think things through, rest your mind a bit before going for that second cookie or second helping. Think about what youíre doing, be conscious and in the moment, making informed decisions.
Sometimes, even if you have the needle situated in the machine correctly and the tension just so, the blasted thing still snaps. A real huh? moment, trust me on this. Slimmed down to todayís jargon: crap happens, even with planning. Maybe youíve gained a pound or two despite tracking every calorie and working out. How are you going to deal with it? Anger? Frustration? Action or reaction? Three words: let it go. Actually six words: let it go and move on.
Details count. In order to chase after my white whale, I had to spend a fair amount of time looking through books, more time looking though fabrics and thread, trying to decide which pattern, how big, what block size, etc., etc. Life is the same way, it goes better with planning. The devilís in the details. Plan your meals ahead, read the restaurantís menu before going, decide what snacks youíre going to have ahead of time, make short and long term goals to meet your health needs.
Scraps are a Godsend. Use what you have, donít be wasteful. If you find you canít pay your way into a gym membership (or donít want to) there are tons of options (scraps!) available. Money is tight nowadays, but that doesnít preclude a good workout. Use a sand-filled milk jug for weights, a broom handle works well for overhead lifts, walk around the block, use leftover fabric for a water belt (thanks BROOKLYN_BORN), do body weight exercies. Re-purpose what you have, use scraps.
Fabric forgives. Confession: some of my points donít meet and my 4-inch blocks are not so much four inches as Ďalmostí four inches. Somehow, itís working (so far, fingers crossed). We tend to spend valuable energy holding grudges and getting even. Life is too short. Forgive yourself.
Only my quilting instructor (from that week-long class a million years ago) was perfect. We all make mistakes. I tend to make a bunch every now and thenópoor food choices, deciding to forego the workout. Not a single one of us is perfect. Humility is a pretty awesome lesson.
Quilting, like getting healthy, is a learning process.