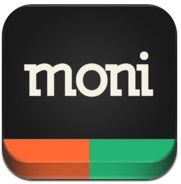 I totally love this app.! Not that I love tracking money....I love the app. pretty much because of the opposite. I usually try to avoid it. But this app. really makes it easy to use.
You can put in any kind of account, including cash or gift cards (unlike the "Mint" app which requires you put in credit card info.).
There is a running balance of all of it together at the top and on the bottom you can slide from one account to the next. And on the main page it shows all recent activity.
All expenses are in red, all deposits are in green.
Under each account you can slide that up and get your recent activity and at the bottom you'll see the balance of that particular account. You can change the date and add notes to each entry.
If you make a mistake you can do an account adjustment.
It allows you to set up a pin number in order to access the app and you can change it on the phone.
There is no email requirement so it isn't as easy to have your info. hacked into because it's not online.
Also, some online financial sites don't have https protocol on all webpages. Unfortunately, the SparkSavings website, last time I looked, only has the http protocol on both the login and on every page after that. The difference between http and https is very important for security. The "s" stands for security and ensures that the information being transmitted on that page is encrypted. That's why you should always make sure that EVERY page of your email is under https rather than just the login page. If you notice it isn't that way for your email it would be a good idea to look into the settings and change it if it has that option.
Just to be clear--outside of the http rather than https protocol issue I DO think that the SparkSavings site is very good and very well put together. I just think that the login and every other page should be encrypted when it comes to a person's income and spending.
Back to the Moni app.....
In addition to this you can set up a color alert system based on what you consider a copacetic amount, a warning amount (time to tighten the belt amount), and what you consider the freak out-time amount.
Not American? That's fine. You don't have to keep the $. You can set your currency for your country.
What are its limitations?
Well, first of all, there is an option to export data but I keep getting an error message. So I've put in a trouble ticket but don't know yet if it's even possible for me. I'll update when I find out.
Also, it doesn't have the option of automatically inputting auto-deposits or auto-withdrawals. So you may want to simply put those on your phone calendar with a reminder attached so you can add those to your moni app. when you get the reminder.
Another aspect that would be of use is the option to mark off whether a particular check has cleared. Even though you can put that information in the notes for that entry the fact that it hasn't cleared yet isn't reflected in the total.
Despite its limitations, however, I still think this is a fabulous app to have available on the go. Even if I lose the receipt, as long as I input the amount as soon as I get the receipt or when I get to the car then I still have an accurate record of what I have to spend.
Best of all:
It's totally free!
Here's their website:
moni.whitewaterlabs.com/
And here's their page on iTunes:
https://itunes.apple.com
/us/app/track-spending-man
age-personal/id523994373?mt=8
__________
I don't work for the company and am not being remunerated for this review.