Entertainment
Saturday, November 16, 2013
I am working from home - sitting at kitchen table with computer. Lifting my eyes I see the birds enjoying the sunflowersseds I started feeding them some day ago. Under a bush lurks Glorious, the mighty cat. I wonder if I should chase him away, the birds are in danger... but a moment later he has moved and hopefully sits under the bird feeder - every bird can see him and I can see them almost laughing their little silly heads off while mocking the cat... suddenly he runs off really hurry.
In scene enters two Bambis... they obviously like sunflowerseeds too! They are really cheeky, loafing around the village in broad daylight, scaring cats...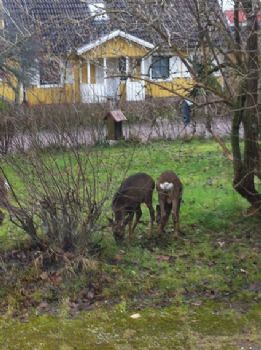 It´s a little hard to keep focus at work with such entertainent right outside my window!