Friday, November 15, 2013
Oh boy, do I mean random. I only work part-time now, but I still have the Friday mentality: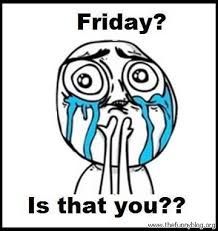 This week was a big 'ole bag of what not to do while trying to lose weight. Eating while bored, agitated, anxious, sleepy, not planning ahead, high-fat meals (with leftovers), baking cookies (and eating them one after the other)--you name it.
However, my exercise was decent and I made the momentous decision to sign up for a half-marathon--go me! But I also promised myself I would lose some significant poundage before hitting the road for that many miles. Ahem. So, work to do! Mostly mental, and that's always a hard nut to crack (go ahead you can laugh). I think I may try journaling to see where my true hunger is at on any given time of the day.
In other news, I found this from Laura Fleshman, an athlete/runner, on the misrepresentation of women's bodies (and men, I assume) in the media. Interesting stuff:
asklaurenfleshman.com/20
13/11/keeping-it-real/
"I Love Friday" dancing sheep for your time: