Ok, so maybe Depeche Mode lyrics are totally inappropriate for the next picture set, but you have to use humor sometimes to diffuse tense situations right? I couldn't tell you if this is NSFW or not. Everything is covered! It may offense more sensitive viewers, though :P Because of this, I'm putting a cat spacer up!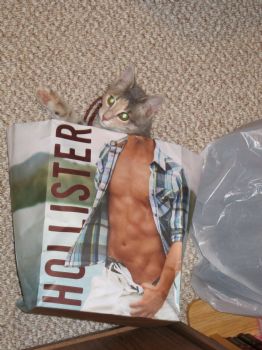 Yes, Nugget is a beefcake.
Now to the rest of it.
I've been a member of spark for well over a year and a half now, and there's one thing I haven't ever posted. Naked pictures! Now, I call them "naked pictures" but none of you are actually naked when you post yours, so I don't know what to call them. Underwear photos? I guess?
Honestly, I've been too embarrassed. Not nessesarily of my body. My body is what it is, and it's not going to be titillating to anyone, so I suppose it's more of a modesty issue? I mean, I've worn one or two pretty revealing costumes in the day, but you never actually see my underwear!
Anyway, every time I happen to be wearing the underwear that matches a certain (unsupportive) sports bra, I think.. "I should make today the day I take my crappy selfies"... I never do, though.
I want to keep growing and progressing as a person, and that sometimes involves doing things that are scary to push myself. So, I am showing you guys my body. Some people take lots of these so they have really great in-progress photos! I never have, so you don't have a starting point. I did not suck my stomach in here, but you can bet your ass I squished my legs together to make my thighs look smaller! LOL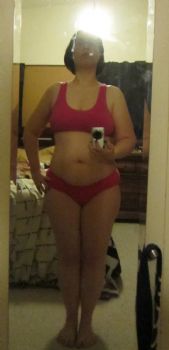 As some of you can attest, front shots hide a lot of imperfections on certain body types! My front is my best side :P It's not until you see the other sides that you get the full picture, yo!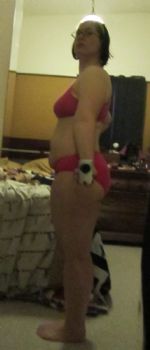 Yup, the thickest thing about me is my legs! What I can tell you that you can't nessesarily see here is that over the last year and a half, my back has really smoothed out. Most of my belly is gone. A lot of it sagged downwards, but I think my last few months being totally off track gave everything some time to shrink a little. The areas with the loosest jiggly parts right now are my underarms and my inner thighs... and even those have gotten a little better over time. The tummy has stopped jiggling. I'm hoping that as I continue to lose more, my body can keep up with the tummy loose skin. I have no hopes for my thighs or arms, but it honestly doesn't bother me that much!
My backside was hard to take a picture of. Sorry! It's a two-parter because I seriously couldn't see WTF I was doing. I think I did pretty well, all things considered!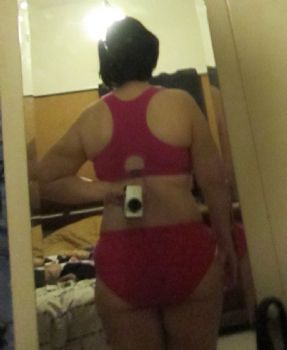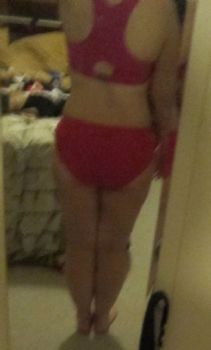 Again, I'm really sorry for the picture quality! I had to go without the flash since I was taking a picture in a mirror, so everything is kind of blurry/grainy. As we all know from soap operas, though, everything looks better through a haze of Vaseline!
I don't really have much to say about the back shots. It is what it is! It's not that flattering! LOL. The lighting and angles really let you see the underarms in all their jiggly glory! Sometimes I wonder if I could hypnotize people by waggling them. Honestly, though, they don't really bother me that much. I used to have a lot of issues with sleeves. I would have to size up sometimes just because my arms wouldn't fit through tight sleeves. It's not as big of an issue now, though, and even with the way they are, they fit in most L size tops, so I am much happier now. I have no problem continuing to jam them in things as long as the sleeves fit! It's a huge relief to not have to worry about that specific problem anymore.
I still have to worry about finding things to fit my thighs, though. As you can see, I'm short and my natural waist is pretty high. I suppose mom jeans would fit best, but they are not sexy! I always try to go with something that buttons at around the navel, or just below it. strangely, even putting pants just above the hip like that, I still have problems finding something that fits snugly there, but roomy in the leg. :( STRETCH PANTS FTW!
I am thankful for my naturally defined waist, which makes waist definition when dressing myself a little less complicated. If it isn't structured, I can belt it, yo!
I need to wait until I have a patient friend around the house, but I still want to make that clothing post. As you can see from my photos, it's a challenge to get the balance right between legs/torso. If I go with shorter skirts, it makes my legs look longer. I work best with things that hit mid thigh. It's got to be a dress, though. Tunic tops are dangerous territory. If they hit mid thigh and I don't have to wear a skirt under, that's great. If they need a skirt, the long shirt makes my top half look too long, and I have to go with a shorter shirt and break the top up with clever layering of jackets and whatnot. Remember my other post. SCIENCE! Dressing yourself is science, srsly.
I also wear heels whenever possible.. even if it's a small heel. Flats are awfully unflattering on my legs! I need every illusion of height I can get :P
I thought I'd end this post with a wedding photo. I am thinner now than I was when I got married, but I wouldn't say it's by too much. maybe 20 lbs? I hit my heaviest like 10 years later. I was totally on the way up by this point, though. I'd been away from home for 4-5 years, and easily put on 30-50lbs from highschool. Next time, I should dig up embarrassing colorguard photos for you guys, so you can see what I looked like before all the weight gain!! You can't see the details in the photo, but there are brocade panels in the front of the dress and the inside of the bell sleeves. I made the whole thing myself, but it was years before I learned anything about proportion. It was very pretty, if not the most flattering thing. lol. But hey.. I made the whole thing for around 200 bucks!