Today I went and got a haircut. This time I got it cut quite a lot shorter than I have for years. It looks really pretty all styled up, but she didn't let me put my glasses on and look at it before she put in (several) layers of mouse and teased it all up to give me height I don't normally have… so I don't know what it is going to look like when I just blow dry and spray. I do know that the way she did it today, while it gives me the appearance of a lot of hair (by height) lifting it out so much allows too much scalp to show. It really shocked me how much scalp shows. So, I am hoping that the shorter style - when I do it more flatter - doesn't leave me looking 'bare'.
Right now it looks a bit like this, but more 'moused up'. My hair is naturally about this color but is showing a lot of gray around the face.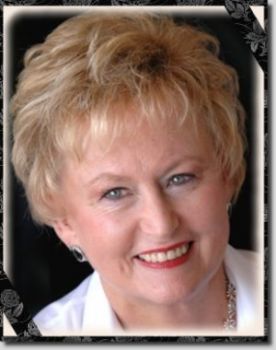 It'll probably look more like this when I do it myself (except my bangs are shorter) and I'm not this gray:
Maybe later I can try spiking it, kinda like this: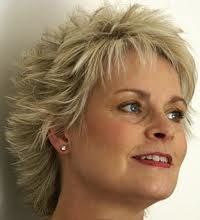 Also the last few months 'the gray' is taking over and making me look 'washed out'. So, I am thinking of buying a box of color at Walmart and coloring my hair myself. In my twenties and thirties I used to be strawberry blonde, then in my forties I turned dark ash blonde, and in my fifties the gray started showing up in small amounts. But, after 60 the gray started really showing up on my bangs, and now it is quite strongly showing up all around my face. For some time I haven't taken good pictures, cause even though it (appeared) that I still had good hair color, when the picture was taken it washed out the color and all that showed through in the picture was the gray. Cause even though it looked like I had color to my hair, the overall color of the hair shaft was gray, and so that is what carried in the picture.
I know it will be hard for me to keep up the coloring of my own hair by doing just the roots first and then just at the last spreading the color through the rest of the hair. Having my arms over my heart is hard for me. But, I am just sick to death of looking washed out. And, I cannot afford to have my hair colored at a salon. Between hair cuts and coloring I would be spending on average $50 a month if I did it every 6 weeks. I just can't dig that out of my pocket, so I will be trying it myself.
When my daughter was still home (prior to 1990) we would help each other color each other's hair. But, after she left the nest I got sick of the struggle of doing it by myself, so I let the color grow out (a pain in the put-tu-ti process). This time though if I decide I don't want to keep up the work of keeping it up, I would have a lot shorter grow out time; maybe 5 months vs. well over a year before.
So, we shall see. I have been debating this for a very long time… After I see what my hair looks like without all the mouse and styling, I will probably make the decision. Soon…
Oh, I made a decision to cover up my bookcases that I have lining the hall. I am sick of trying to keep all those books dusted, so I decided to buy some plain white heavy duty shower curtains, and at the top of each 6 foot bookcase I will put nails where the grommets of the shower curtain can hang onto. When I want to search for a book I will just pop the shower curtains off and search, then put them back. No more keeping up the dusting. And it will help cut down on allergens aggravating my asthma.
I wish I could do this to the bookcases lining the 2 walls of my living room too, but geez, I don't think it would look too nice.