Hello all. I am back again after a fairly productive, long weekend. After work on Friday I took a trip to Whole Foods to do my weekend grocery shopping and I needed to get a bunch of gluten free items so I figured Whole Foods would be best. Um yeah - so ridiculously expensive :( My grocery bill was DOUBLE what I would spend at the commissary :( I need to go to the commissary and see what they have in their small gluten free section next time. I cooked a dinner of rosemary and balsamic chicken thighs with a side of veggies for J and I and it was delicious. We watched a movie, too.
Saturday we went out for breakfast and I was able to manage to survive my food restrictions by getting eggs, fresh fruit, and bacon. Then I went for an outdoor run on the base I am stationed at. I planned to do 3-4 miles, and ultimately did 3.5 miles at an 11:19 pace. So glad that my pace is still consistent after taking a 1.5 month running break! I also did push myself a bit more than I normally do so I was really happy. I was also doing 4:1 intervals, which worked for me. I am debating whether to just stick to intervals instead of running straight. I've never done intervals during a 5k before, and I have two 5ks coming up so I am still wondering whether I should stick with the intervals, or just run the whole thing. What do you guys think about intervals for a 5k?
After my run and getting a salad for lunch (I think I am obsessed with banana peppers right now!!), I set to work and got about 3ish hours of sewing done, sewing up my quilt blocks for the quilt I am making my mom for Christmas. Then J said we had dinner plans with his coworker and her husband, so I got ready and off we went for sushi at my favorite sushi restaurant!
Sunday morning I attempted to make chocoalte pancakes (gluten and dairy free) and it was a complete disaster. They looked gros and tasted even worse :( first gluten free/dairy free baking attempt and fail. I have since purchased gluten free pancake mix and am hopeful I'll have better luck with pancakes (though not the chocolate kind). The rest of the day I spent sewing. I think over the course of the day I might have spent about 9 hours sewing. I almost completely finished the quilt top that day, except for the colorful border pieces. I also freaked out because I sewed myself right through dinner and then didnt know what to make :( I ended up throwing together some ground buffalo, veggies, white rice and balsamic vinaigrette. It was actually quite tasty and super filling. I just had some leftovers for lunch and I am very satisfied right now.
On Monday I woke up had oatmeal for breakfast, and then did Day 1 of T-25. OMG it was only 25 minutes but it seriously kicked my butt. No joke, I am still sore from Monday (but in a good way). I decided not to go for a run afterwards, and instead got showered and dressed and headed to J's house so we could go out to lunch for Veteran's Day. At this point I was also pretty frustrated with my food restrictions, and I was ready to throw in the towel, but J was really supportive and reminded me that I am feeling so much better already after only one week of gluten and dairy free, and it wasnt worth it to just be in stomach pain later. We ended up going to a local Mexican restaurant that we know has a gluten-free menu. Turns out they also have a Paleo menu! It's pretty small, but I was able to get something off the paleo menu that was both gluten and dairy free. And it was absolutely delicious! After lunch I went to the quilt store and puchased more fabric for the other quilts I want to make as Christmas presents, and then stopped at the grocery store to pick up a few more things. I made oven-braised mexican beef for dinner that night and it was delicious. I have enough to last the rest of the week and I am excited just thinking about eating it later!
Monday I finally finished the quilt top for my mom's quilt. This is what it looks like: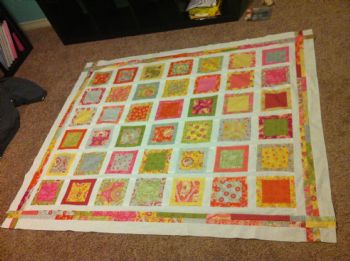 I also talked to my mom on Monday and she was in a pretty bad place mentally/emotionally. She saw the oncologist on Monday and she will be starting chemo next week - for 6 months and she is pretty upset about it. Also, the oncologist said she will likely lose her hair by Christmas which I think made her even more upset because that kind of makes it all "real" for her. I tried to be supportive, but she was just really wanting to feel sorry for herself. I felt pretty helpless and didnt know what the "right" thing was to say. I did offer to donate my hair in her honor - now to find a place that will take processed hair. She is planning to go wig shopping this weekend with a family friend who battled ovarian cancer a few years ago and went through the same things my mom is going through right now. I am glad she has someone so close to lean on, who understands what she is feeling. It also turns out that my brother is moving back in with my parents for a few months because the friend he was living with just told my brother and the other roommate they had to be out by the end of the month - out of the blue. But it works out because my brother can add some help around the house too - my father is not very domesticated - he doesnt do house work haha.
I had a really hard time sleeping on Monday night and never fell asleep. And then at around midnight I got hit with a full blown head cold out of nowhere! It was so random! But I went through an entire box of tissues in less than 5 hours (and never fell asleep!). So I took the day off from work on Tuesday, loaded up on cold medicine and slept until about 10am. Then I remembered I had an ultrasound scheduled! So after making some food and showering, I drank way more water than necessary and then headed to my appointment - I felt like I was going to burst! Luckily, I didnt have to wait very long once I got there and it was over pretty quickly. Just waiting on my results. No - I'm definitely not pregnant. But I've had some irregular bleeding so the nurse practitioner at the womens clinic just wanted to get me checked out to make sure everything was ok.
After getting home I talked to my mom and she was feeling much less overwhelmed, which made me feel better. I spent the evening cutting fabric for a table topper Christmas quilt I am making for my grandma and will probably start sewing that tonight. Since I had missed work, I didnt go to dance class :( But the cold medicine seems to have helped and I am feeling better today - still a little head congestion, but way better than yesterday. And I slept really well last night.
I also missed my T25 workout yesterday but I'm going to get back on schedule this afternoon. Also planning to get in a run after work, too. And I am having a phone chat with my law school BFF tonight which I am excited about!
And to check in on my food restrictions, the different has been night and day. It's been 1.5 weeks since I've been gluten and dairy-free and I have had ZERO stomach pain. My acid reflux hasnt even bothered me either. I even drank coffee this morning (with coconut creamer) and no problems. I will say, I had always been skeptical about food restrictions. But I have to tell you that my doctor must have been on to something. It is amazing to not have stomach pain. I am eating 1000x healthier. It's super frustrating having to read labels on EVERYTHING but I just feel so much better. Baking is still concerning, but I am going to try pancakes this weekend with the store-bought gluten-free pancake mix, and I also bought gluten-free cake mix (that is also dairy free) and plan to try cupcakes sometime soon, too. It can get overwhelming at times, but then I think of what my mom is going through, compared to having to read food labels, and I know that my problems are not that bad in reality. Plus, if I am feeling better, that is what is really important. And J was so right on Monday when he said that though it is frustrating, its better in the long run if I am not in pain or feeling sick anymore. Reading allergen menus for restaurants can be discouraging, though!
PS I am listening to the Mariah Carey & Whitney Houston station on Pandora and I feel like I am reliving the 1990s. AMAZING. I was listening to the Hair Bands station this morning - go 80s monster ballads! Seriously, how did I ever survive working without the Pandora app on my phone??