HELLO! My name is Amy and I am a school administrator and athlete. Iíve been an athlete my whole life, but ironically enough, Iíve also struggled my whole life to keep myself fit and healthy. One of the biggest challenges for me is finding a balance between food consumption and exercise. How do I read labels and measure the right portions? I even counted weight watchers points at one point in life in an effort to make it easy. None of it worked and all of it had one common denominator: the scale as a progress marker. So, in January of 2013, I stepped onto and off my own scale for the last time.
I pride myself in my career as a school administrator by making sure that everyone knows that thereís always a different perspective out there. You know, walk a mile in someone elseís shoesÖ Everyone has a story. People may look at my pictures and think, she didnít lose that muchÖ.or, she didnít have that much to lose. Iím going to tell you a different storyÖ
I come from a family that has a LOT of cancer, heart disease, obesity, and diabetes, so I promised myself years ago that I was going to do everything in my power to keep those words out of my vocabulary. Iíve dabbled in just about everything for good measure because I get bored easily: boxing, running, treadmills for hours, elliptical training for even more hours, swimming, weight training, prepared meals from eDiets, NutriSystem, and anytime Iíve watched the scale, the number has always gone down. But Iíve never experienced an ACTUAL lifestyle change and inevitably end up watching that scale plateau, thus, eventually bringing back my loosey-goosey, wiggly giggly thighs, arms, legs, butt, and muffin top.
It took years for me to figure out what I was missing: I wasnít eating right. This brings me way back to September of 2011 when I started dabbling in clean eating. I was introduced to clean eating by Kyra. I got her Bikini Cookbook I started using some of her recipes and doing her workouts, but it wasnít too much longer after I started that I fell off the wagon again.
Fast-forward a year to when I was training for the 2012 Disney Princess Half Marathon and I loathed every minute of my training. I never felt energized, I wasnít seeing progress with my body or my time, I was unmotivated, and when race day came I wasnít ready to run, but I did anyway. Note the two common denominators here: the scale and no consistency with what I was eating. I was eating clean, but only sometimes.
The feeling I got after finishing the Princess Half was one I wont ever forget, I cried tears of joy as I crossed the finish line, but I continued to struggle for months after the race with body and eating issues. The day after the race was spent with self-loathing thoughts about my body compared to my fellow Princessesí bodies. The worst part about that dayóit was my birthday and I should have been happy with my accomplishment and myself! Instead, I was alone with my self-loathing thoughts. I spent months after the race doing nothing and eating poorly. That summer I fell into a depression and stopped caring about what I looked like. I figured, hey, it is what it is and hid myself in dresses all summer long so that I wouldnít have to feel uncomfortable with seams, waistlines, and shirt lengths. I ventured to Maui for a friendís wedding and went out there looking and feeling the worst Iíve ever looked or felt. You wouldnít know it by the picture because Maui kept me smiling.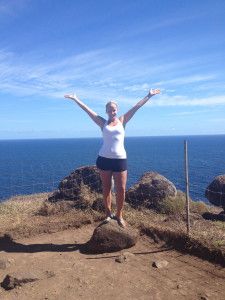 Something about being on Maui changed my thinking. I got back to the east coast and my whole attitude changed. I realized while I was gone how much of a slump I was in and how much I wanted a physical change. I started running again that September when I got back and hoisted myself back onto the clean eating wagon full force. I pulled Kyraís Bikini Cookbook out and started following numerous clean-eating sites on Facebook, pinning recipes like a mad-woman on Pinterest, and Iím pretty sure I drove everyone around me mad in the market because I was damned if I was going to let labels get the best of me.
By November I weighed around 160, meaning I had lost about 15 pounds. The scale stayed the same through Christmas Eve in 2012. At that point, I had given up milk, was following TRX workouts and started getting my mind even more into a better place. I continued following The Get In Shape Girl, which gave me daily inspiration, but what really inspired me were peopleís progress pictures. This was the game changer for meóthere was a total shift in my thinking. Here was this community that was off the scale and I was seeing how much happier they were. My eyes were starting to open up to a total lifestyle change.
Below is a picture of me that was taken just before Christmas in 2012. I actually look heavier in this picture than I do in the previous one where Iím actually 15 pounds heavier.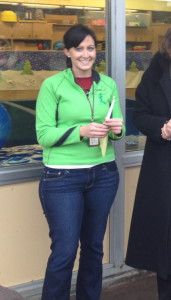 In January of 2013, I got myself a new tattoo, weighed myself one last time at the end of the month (155), and come hell or high water, that the tattoo was going to look great on me by summer. At this point, I was in the middle of an 8-week Chews to Lose program at a local gym. This served as the ďin my faceĒ reinforcement of what Kyra has been saying all along about food and what we consume.
Kyra has said along that how you fuel your body is the most important thing! In other words, YOU ARE WHAT YOU EAT. Not once did I step on the scale during those 8 weeks. Instead I was measured and had the pleasure of watching the jiggles I had on Maui jiggle themselves right off my body and out of my life. I became so motivated that I registered to continue for another 8 weeks. After 16 weeks of clean eating with one cheat meal a week, I lost a total of 29 inches across my hips, thighs, calves, arms, chest, waist, and stomach. That was back in May, Iím certain Iíve lost much more than that, but the fact of the matter is, THE SCALE HAS NOT CHANGED.
December 2012/May 2013: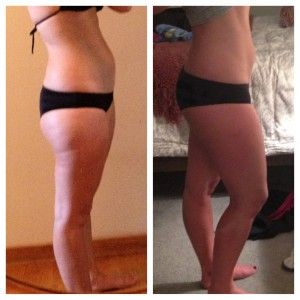 In July, I went for a well-visit at my doctorís office in July and the scale again said 155. I was floored that what Kyra and my local gym have said all along was actually happening to ME! My body had transformed, but more importantly, my MIND had transformed. I had completely shifted my thinking about EVERYTHING. My weight, my body, my fitness, strength, agilityÖ.my self-esteem. This made me come home and document this progress by another picture to prove that the scale means nothing.
I honestly felt the same way that Kyra feltóI wanted to share the notion of Ďthe scale means nothingí with the world. Some people would be upset about that number not moving. I wasnít. I was ridiculously excited to take more pictures.
December 2012/May 2013/August 2013: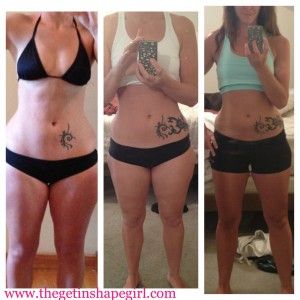 This journey of mine has not been easy. I fell off the wagon NUMEROUS times. I cried, got injured, got bored, had cheat meals more than once a week, but picked myself up and kept going no matter what. This whole journey started to be about numbersóthatís what is slammed in our faces by society: salary, taxes, money in our wallet, reps, weights, clothing sizesÖitís all about numbers. The fitness journey however, isnít.
Itís about SO much more. The scale has become neutral to me now. I have one in my house, but itís up on a shelf in a closet. I honestly donít even care what the scale says anymore, but itís not a self-loathing I donít care, itís the realization that it really doesnít matter as long as Iím doing right by my body: that Iím listening to it and fueling it the right way so that I can keep on keeping on.
I have been a consistent clean eater for almost 10 months now and that journey has changed again even more. I shop off the non-GMO list and I have maintained a gluten free lifestyle for the last 7 weeks. The reality of it is for me is that Iíve realized that I was doing for so many years what I thought was right: distance running, limiting my caloric intake, and stalking the scale. None of it made me happy because there was never a happy balance in my mind with any of those things: tons of cardio,limiting my caloric intake (what does this matter if youíre not even eating the right things???), watching the scaleÖ.get ready for it: my 155 pound body right now fits into a size 6. My 155 pound body in January was between a 10 and a 12. That silly number on the scale means nothing. Well, in this case, it was a decision in my mind about whether I was going to let the number get to my head. Thatís all it is: a number. The rest of it is up to you.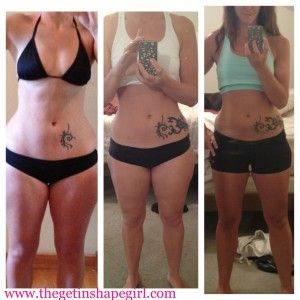 I realized one day while kayaking that I actually hate running. I stopped paddling in the middle of the lake and said to my friend, ďI (bleeping) hate running.Ē Since then, Iíve been biking nearly 10x longer distances than any of the running distances I was comfortable with. With that and staying off the scale, I have seen the best results and better consistency than ever before.
Hereís what Iíve learned:
1. You are the only stakeholder in your happiness and the journey toward a fit and healthy lifestyle; not the scale.
2. If you have to force yourself to love what you do, you will never find balance in your life and will hit more speed bumps along your fitness journey.
3. Fuel yourself correctly, listen to your body, and do what you love.
I guarantee that you will see more consistent and more meaningful results THAT way, than relying on the scale or following what you want to feel right instead of what actually is right for you. I promise. Cheers!
If you are ready to make long lasting changes with a plan that will fit YOUR lifestyle,
Sign up for Virtual Training today!
Kyra,
The Get In Shape Girl