Tuesday, November 12, 2013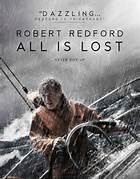 When reviewing a movie, play, musical, cabaret act or anything that comes under the guise of 'art' I do my best to be kind but I am at a loss regarding the new Robert Redford film "All Is Lost". I have walked out on only one movie in the 70+ years I have been movie going and it took all I had not to walk out on this one.
To be positive Redford does a good job with what he is given to work with but he is the only one on the screen for the hour and forty minutes of the film and if the audience applauds when a school of fish appear you know something isn't working. My feeling is nothing in the movie works with the director J.C. Chandor, also the writer, along with the directors of photography Frank G. DeMarco and Peter Zuccarini, doing some shots that are incomprehensible. I am not a 'sailor' but even I know some things in the screenplay, on the screen, are not believable.
When Robert Redford costars with strong actors like Paul Newman, Barbra Streisand or Dustin Hoffman he shines and he shines here but the ocean wins out. And don't hate me Redford fans but he hasn't aged as well as Newman did. He gives his all and is getting a lot of the spotlight for it but as honest an acting job he does it is not enough to 'sell' the film