Something about a dog
Sunday, November 10, 2013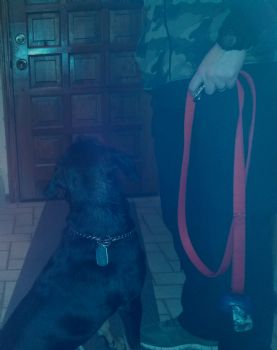 There is something about a dog that will drag you out the door... help you appreciate the outdoors even if you weren't so inclined today. I got a visit from my son and grand-dog today. We went to the dog park and tramped around while Boomer socialized with the other canines.
Son went home with my fitbit in hand... to see if it will catch his odd panic attacks in his sleep... (I asked him how he knew he had them since he doesn't remember them in the morning... duh! His WIFE notices.) Anyway he says it isn't that often these days, he's been home half a year now. But I'll be interested to see how it works for him, anyway.
It's not been the best of weekends in terms of activity and eating... had that bit of insomnia and that's led to some not so great choices in the food department. Then it was headache & sinus yucks, and I've just been tired... so... not so many steps as usual.
But a visit from a canine? How can one not smile? And hugs from one's grown son? Pure maternal joy vibes. Yes, I'll get through this... had a good work week... just got to get my weekend mojo back.
Tomorrow is veteran's day... hug yours or borrow one to thank for his/her service!
And Spark on. Because LIFE is good, and worthy of good choices.