Sunday, November 10, 2013
Good afternoon,
I have just been looking at this photo which was taken yesterday and hope it will help me to sum up how my week has been...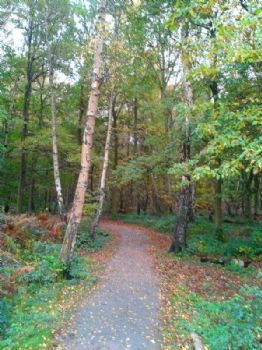 Yesterday my friend and I randomly followed this path, but occasionally opted to wander further in the forest and were either stuck in thick mud or faced with a dead end with dense forest and wild animals. It was fun turning round and looking for the pathway until it led us back to our destination.
In comparison, this week I have tried to stay on track with my goals, balancing work and home life. Planning is key to everything, but I am not disciplined to always remain, focused, and time has flown away. Sometimes I have had the uncontrollable munchies and just had to give in, or I over exercised, as the next day there was not an opportunity. As work commitments are increasing, it is hard to fit everything in, plus have a good nights sleep!
But as each day begins, I reflect on what went well and what did not, and then I get back on track, and try not to be too hard on myself, and mindfully search for the path to all my desired goals.