I couldn't help but compare this race to last years Savannah Marathon. Most all of this years attempt was better. But, not all.
Had a good night's sleep in my comfy RV. Woke up on time and had my usual pre-race breakfast of oatmeal, banana and coffee.
DW and I made the walk to the start line and waited for my corral to start.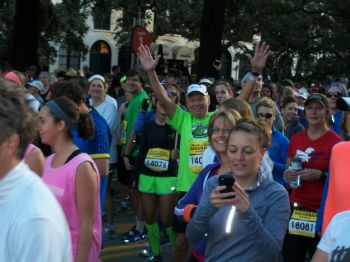 I had estimated a 5 hour race, which put me in corral 14. I met some nice young ladies while I stood there, and DW got some pictures.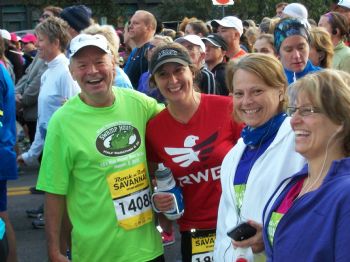 The start got off went well - being a larger race it was slow to pick up speed. Not a bad thing, because I wanted to start slowly anyway. Whenever I got behind slower runners, I'd just start walking, and resume running when they got far enough ahead. That worked out fine.
The beginning miles racked up slowly, and I felt great. The streets were lined with cheering supporters. I was enjoying the crowd support and funny signs people made up. I interacted with the crowd when it was convenient, and thanked them for being there. I didn't feel any competitive pressure, and I wanted to enjoy the atmosphere more this time.
I ran comfortably for a long time. We split from the half marathoners at mile 11 and we were in it for the long race now. I passed my half marathon mark at what I thought was a good time. I didn't make a note of it, but it might have been around 2:20 or so, a tad too fast, but okay.
I never felt tired until around mile 18, then I could feel it. This time, when I was at the Savannah State University around mile 15, I still had lots of energy, unlike last year. I was very tired at this point in 2012, so it was nice to talk to the students and tell them how much I enjoyed their enthusiasm. They are so full of energy, and couldn't be more supportive. That was, again, my favorite part of the race.
So, as I said, around mile 18 I was getting tired. No cramps or real discomfort, though. Just before mile 22 is the uphill onto Harry Truman Parkway. This is a 'bad' part of the race for me. Two and a half mile of steady incline, and it hurts. I had to slow and walk a lot here, but at least it was not hot like last year. The sun was fully out, though, not 'cloudy' as the weatherman had promised us. There we some cramps threatening to rear up, I could feel twinges, so I slowed even more, and walked as necessary. I plugged along.
Finally reached the top of the hill, no downhill, just a flatter running surface to the end of the race, another mile and a half to go. I'm pretty tired, and not enjoying myself so much. The banter from the crowd was not so amusing at this point, but I appreciated the effort.
Eventually I got to the finish chute, and the spectator support was truly unbelievable! They were cheering and screaming at us, just wonderful. Even though I was pretty beat up, I really appreciated this, as I chugged down the corridor and crossed the finish line.
Dw got this picture. From a distance, but not a bad shot.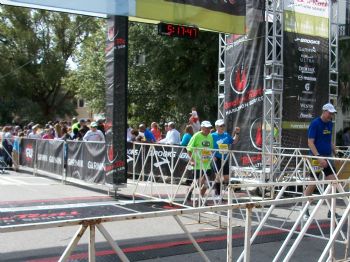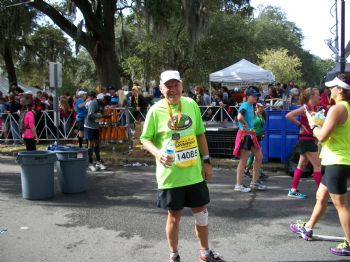 I did my usual smiling/posing pictures, but she also got a candid shot of me looking as I really felt.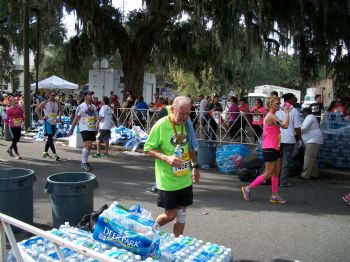 Went to the after race festivities at Forsyth Park to rest up a bit before the walk back to my RV.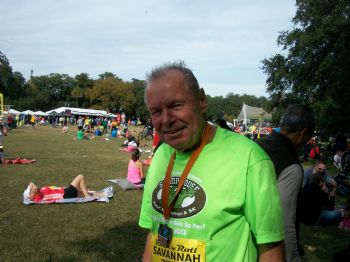 The bad thing about this race was my level of pain and discomfort upon finishing. I could hardly sit down, or even get up once I finally did get seated. My feet and legs were very stiff and painful. Not at all like last year, where I was relatively pain free. I'm thinking my cardiovascular fitness exceeded the strength of my old limbs, so I was able to push my body harder. Just my best guess on what happened. I did have a much better finish time, so it seems I was able to push myself harder this year. My time was 4:58:50, not bad for a geezer. This was good enough for a 3rd place in my age group. Last year I won 3rd place too. But, it was taken away when an error was discovered. Apparently there was a chip malfunction of some kind on the actual 3rd place winners chip. Let's wait and see if I really won this year.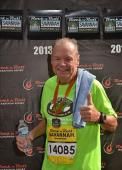 So, there it is. Another marathon in the books. I enjoyed the challenge, now to relax and take some well deserved time off.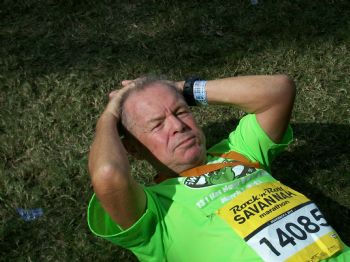 Thanks for reading and have a great day.