A very stressful week is over. Thankfully I am doing better now! (Insomnia has not left the building completely, but hey, at least this means I have peace and quiet to write blogs in the middle of the night.)
I've honestly not been in a very good place emotionally this week. I've missed sleep, I've missed work, I've missed workouts, I've missed meals and at brief moments I've felt like I was about to lose control. I've been incredibly jumpy and at the same time dead tired. All very draining..
Ever since uncovering what triggered it all I've felt calmer. I will admit that I'm still a bit frazzled and rough around the edges, but I'm handling life well enough again. (I can deal so much better with my anxiety when my feelings makes sense to me!)
Tracking has been put on the back-burner throughout this week. Looking back I've realized that this might have been a blessing in disguise. I've come to grips with the fact that lately I've used tracking food as a way to control my emotions rather than my calories. Probably not the end of the world, I know there are worse strategies to use, still I'm thinking that this may be a good time to cut back on meticulous tracking for a little while.
(Don't worry about me. I'm not giving up on my healthy habits. There probably won't be any major changes to my eating habits or workout schedule. I just plan to spend less energy on monitoring and controlling. This will be good for me!)
So there is that out in the open. I'll still be around, I promise.
Dealing with all this made me cancel my planned jogs. On Friday I found I was in a better frame of mind again. By then winter had arrived, so I ended up having my first try at jogging on frosty sidewalks. Very slippery! Carefully tip-toeing was the only way to go. (I guess I really can't call what I did most of the time jogging)
The gravel paths through the forest and by the water was not that bad. I managed to get my pace up and my heart pumping up the hills, but even there I had to watch my step. A good thing all in all, as it really helped me stay grounded and in the moment, keeping my anxiety at bay.
Here are Fridays pictures.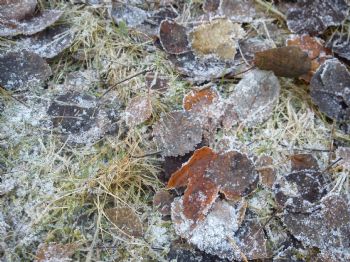 A close-up on the frosty ground. I've always enjoyed the sound of walking on frozen leaves.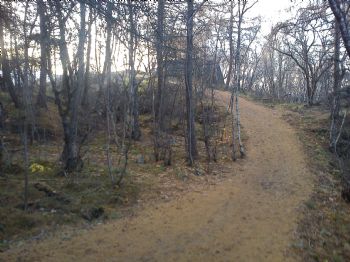 Catching my breath at the top of one hill, preparing for the next.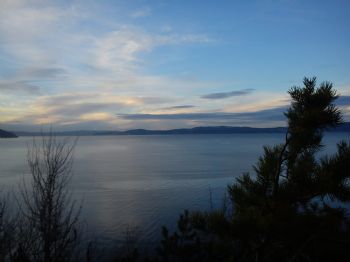 I reached the top!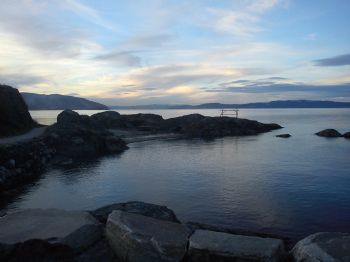 During summer this little beach is filled with people. Friday I had it all to myself.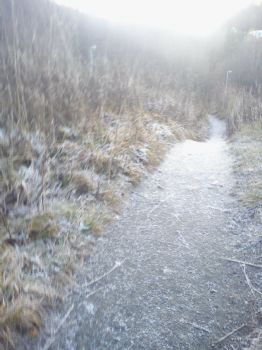 This picture was taken just a few moments after the last one. The fog came fast!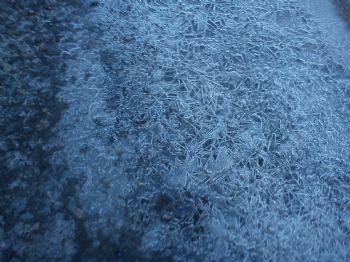 Had to watch my step when walking on this sidewalk. Still, I do find the frost to be very beautiful. I was losing the light at this point, so this picture is not really doing it justice.