Feeling a bit down...
Saturday, November 09, 2013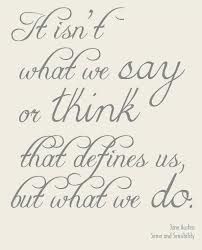 I think I will write just a bit. I have been feeling a bit down of late. My eating is not going poorly at all, but I do need to recognize that with my age and the medications I take, weight loss will never be speedy or easy for me. I am committed to eating as healthily as I can and to prioritizing working out.
I have been feeling very strange at work. I have one class that is going very well I believe. The students attend, they participate, they pay attention and I feel at ease in front of them.
Then I have another class that has been a nightmare. I have to say: I am a failure. I knew that this class would be difficult because it is NOT everyone's cup of tea. I also know that a lot of students sign up for classes because of the time or because the class fulfills a requirement. So this class is as inert and leaden as anything I have ever experienced. In the past I have taught this class to students who were engaged and who laughed and talked with me as we explored the elegant irony of Jane Austen.
Now? Is it me? Is it the students? I wonder if my teaching is less effective because I am old and look it. I have heard that students perceive young and hot professors as being "better" and that old male professors often have an aura of "gravitas". But the old female professor is a laughable thing.
This class has been deeply wounding to my heart. Students flop their heads down on the desk and sleep; absenteeism is enormous (about 10 out of 23 students make it to class each day).
The sense of failure is contagious; in other parts of my life I also feel like a failure. I try so very hard and yet I cannot seem to hit a right note.
Member Comments About This Blog Post
HELMTGRL
This is a hard one, Natalie. I don't think we give adequate notice to the synergy that exists (or doesn't) between a class and its teacher. A long time ago I was teaching two sections of American Government, one to military-school students, mostly boys, and the other to nursing school students, mostly girls. The nursing students were notoriously disinterested in American government, and the military school students were exhausted, stressed, and generally unengaged in most aspects of school. I taught the military school class in the morning, and the nursing school class just after lunch (which should have been the double kiss-of-death). But on the first or second day of class, between the morning section and the afternoon section, news came that Korean Airlines flight 007 had been shot down over Soviet airspace. I am sure you remember the incident. I walked into the class at the nursing school and launched straight into that incident and potential responses as a way of introducing the branches of government. Somehow, for some reason, it really "took." Students who had never thought much or cared much about government became really interested in it --a couple in particular-- and that section of the class --and that section alone--became really lively, and stayed that way all term. The military college students were not reachable with the same incident; they simply believed a military response was the only appropriate one, and cared little about who could do what. I began looking forward to the nursing school class, and being somewhat indifferent myself to the MS one. At the end of the term, I gave the exact same exam to both sections. The nursing school students averaged a full 15% higher. Because this had never happened before in any government class, I was called in by the department head to "explain" myself; I was accused of somehow favoring the nursing students. I tried to explain the synergy thing, and he refused to believe me. Eventually, the investigation ran out of steam; the nursing students who were interviewed all talked about how much they had enjoyed the class, and how interesting it was in the light of the 007 incident. So I was "exonerated."

I tell you this not as some suggestion that you find a contemporary hook on which to hang your class --you have been teaching a long time, and I know that you know all the tricks and tools of the trade-- but simply to remind you that sometimes you just pull a dead-energy group, and sometimes you pull a room full of unlit firecrackers. When you get the dead-energy ones, there is very little you can do to motivate them, and it is next to impossible to keep your own fire lit in a room where everyone is sucking up the oxygen. Don't blame yourself. It happens. I am just sorry it is happening to you.

Linda


1371 days ago



Comment edited on: 11/14/2013 12:05:48 PM
PATRICIA4472
I don't have anything to add, either -- but I was struck by the number of responses you got to your blog! Wow. Think of all the positive vibes from out here that are going your way. What a gift you have for attracting others through sharing your self.

Teach to your passion and know that the beauty of that moment is worthy in its own right.



1373 days ago

MONETRUBY
I really cannot leave anything that sounds any more insightful than what has already been said. I agree with those who have expressed that we feel rejection more deeply when we love what we are trying to give to the other person/people. It is sad that so many people today do not love great literature, but take heart; perhaps at least one of those students will develop a love of Austen. That would be lovely.


1374 days ago

IMPROVINGME
I hope you're feeling better today after writing about your teaching experiences. It may not be apparent who it is, but more than likely, there is at least one student in that class who you are reaching and who really wants to learn.

Embrace the fact that you are an excellent teacher "of a certain age" and go back to that class this week with renewed enthusiasm. And yes, put on your acting hat and fake it till you make it! Enjoy the rest of the semester, knowing that you are making a difference in some students' lives.




1375 days ago

LILDOLLY
One of the best professors I had was a man who I considered at that time to be an older gentleman (@ 60 I think). He taught a class that was a requirement, and not the most fascinating of subjects. However, he was so excited by the course material that most of us couldn't help but be interested. That said, it was 30+ years ago and I was in graduate school, both of which probably had some influence.

I think you are being too hard on yourself, like everyone else is saying. I'm not a teacher, but I have supervised students completing long term placements at my former job. While they were interested in the job, I found they had a lack of interest in anything they considered "old" or not relevant to their present state. I even found this with much younger co-workers.

I suspect the students in your second class feel this way. It's their loss, not your teaching. Continue to do your job, and try not to project their reactions and behaviours on yourself in a personal way.


1375 days ago

HIPPICHICK1
I've been there. I taught belly dance for about 8 years and my classes ran or did not run based on student enrollment. Sometimes the last few classes are the most difficult to teach because the absentee rate is high. You wonder "did I fail?" But it is usually not the case. It's unfortunate that you have to endure this class. Maybe you can pretend they are the other, more interested class and it will make it more bearable.
Don't take this to heart!



1375 days ago

TREV1964
What you explain here is the very reason that I am a private teacher who works mainly one to one when I do teach. By charging each of them for the tuition I give I am rest assured of teaching only people who want to learn. The only thing I can suggest is to work enthusiastically with those who do turn up and as for those who do not bother to turn up they filter themselves out of the education system by default.

Hold in there though as there are times in education where you wonder what you are doing there and there are other times when it is the very best thing in the world you could ever choose to do.

If you are anything like me you focus on the positiveness and use this to drive you through the more negative times.

They way you explain things you sound like a teacher who genuinely cares and genuinely wants to help - it is then up to the others if they choose to learn.

Cheers

Trev


1375 days ago

SPARKCHANTAL
sure it's you! you're trying too hard!

students have an uncanny ability to sense that, they see you don't take yourself seriously, so... (fill in the blank!)

on one afternoon, I teach English to students of the sciences. I worked so hard putting material together for them, and what is one of them interested in? my advice on whether he should go to the doctor or just get a pair of reading glasses from the supermarket, because he seems to be having trouble reading. they are coming from a different world, remember!

p.s. it most definitely IS what we THINK that defines us! that's what makes us DO what we DO!




1375 days ago

1SALMON1
Oh I wish I was in your class! What a delight to discuss Austen with someone who knows and loves her. That's a sadly rare event in this American Idol culture. One thought - when I love something and share it with others, I eagerly hope they will love it too. My heart, as it were, is on my sleeve. If my delight is not shared I feel it more deeply & take it more personally than I would if I cared less. Maybe that is part of the dejection you feel. If Jane were writing this story I wonder what she would have the teacher do? Let's see... what would Emma do? What would Fanny do? Also - who says older female professors are laughable, by the way? One of my best teachers (microbiology) must have been at least 65 (I was a youthful 30 or so in her class) and she was formidable! Anyway, one thing I am sure of is that you, Natalie, are NOT a failure! One bummer class does not a failure make!


1375 days ago



Comment edited on: 11/10/2013 1:19:22 AM
CURTIOSITY
Hi Natalie,

One teensy excuse - until folks get used to limited daylight life is uphill all the way around.

I am happy to hear you have a class that is stimulating for you.

Age is not a factor. If youth were requisite for excellent teaching, graduate assistant-taught classes would be SRO. They are not.

I remember having a class from hell a few years ago - it was terribly enervating. One day I simply lost it - told the students that, as a class, they were boring me to tears. I had them write 3 things about themselves that were not boring... blah, blah, blah. I become angry with people who come to a class expecting to be "serviced." I understand having to take classes because of requirements, time restrictions, etc. - but that does not give a student the right to be boring. "Not my cup of tea" is no excuse.

I am always just a hop, skip and a jump from my high horse. % ) Why not hop on yours?




1376 days ago

YJNANA
I totally agree, I think its the group and just perk up and don't let them pull you down.
I remember at my job we would have to take classes on mixing with other workers in our plant. Like Engineers, mechanics, store keepers, assembly workers. They put us through brain storming, for ideas on a situation, or judging a persons picture, what kind of person they might be............... its was very enlightening to see the responses and had us laughing and letting our guard down.
Seems like life pushes us from one thing to the next without a break, without getting to know our fellow student or worker. We are all so intimidated by how someone will perceive us, with the answers we may give.
We use to be told there is no Wrong answers.
I also think times are changing and being social is becoming a thing of the past.
To many techy things to stop communication.
Chin up, Smile, its contagious, start the day out with a Riddle :)
see who breaks down to find an answer
There are a Ton of Teachers on Sparks. Maybe a Question to Teachers, would get you Lots of answers to how they are dealing with Todays Students
You Have a Great Day


1376 days ago

CAT125
Today's students are much different than yesterday's! Like you said, they probably have no interest in what is being taught, they are there because it "fulfills a requirement."

You can't please everyone. I'm sure you are pouring your heart out....that is more than enough!



1376 days ago

AMARILYNH
Natalie, I think you need to read your own blog as if it had been written by someone else - then I believe you will come to the same conclusion I have come to. It is not YOU, it is the students!

How can I be so sure? Because one class of students is doing great. If it were YOU, none of your classes would be doing well. I can understand your frustration, but don't take on responsibility for something over which you have no control! That path will lead to defeat!

Actually reading your blog brought back a memory from when I in college. I was a sophomore - it was an English Literature class. The teacher was QUITE old (probably all of 60 LOL - that is OLD when one is 19!) but I adored that class!! I took it in summer school and still remember it fondly. So teach to THOSE students - let the others worry about themselves!!


1376 days ago

TONEITUPSARA
i am sure it's not you! As a college student i feel for you. A lot of us simply just don't want to be in class, don't blame yourself. I know that certain classes i have are really active while others no one speaks. And it's not even because of the teacher. It depends on the group of kids really. How they all fit together socially.

As for your weight loss.. have you tried switching up your workouts? Your diet? A lot of time if we get too in sync with a routine are body plateaus. Keep your head up and everything will turn out just fine.


1376 days ago

PURPOSEPOWER95


You are kidding RIGHT? I am on meds too. Have too many health challenges to name. So I won't We all have those type feeling from time to time. But it is a head game. I think you are doing awesome. I am sure your team thinks so. As far as the students well they are young and do not appreciate your efforts. When they grow older and have a life outside of school they will be reminded of how you tried to help them. I have a special place in my heart for teachers. As long as you know you are doing what you are called to do that is what counts.


1376 days ago



Disclaimer: Weight loss results will vary from person to person. No individual result should be seen as a typical result of following the SparkPeople program.
More Blogs by TOI-TOI-TOI