I'm sorry I haven't been around much. Some of it has been just life sort of stuff and some being I just haven't had the heart to log on. i've been pretty much wrapped up in my own little universe and haven't given thought to much else. I had a problem with my right shoulder that was triggered by doing a lot of over head work and also a lot of tedious cable stripping. the result was about 36 hours of searing pain that didn't let up. On top of other problems, this was the Coup-De-Grace to my workout efforts., just after I was starting to build momentum.
I saw a doctor Friday, had X-rays taken and will know more later. I have a pre-existing injury to my shoulder from softball a number of years ago where I swung too hard and really nutzed up my shoulder. It has always been a thorn in my side but this was over the top and came at a bad time. The inflammation pinched a nerve which explains the level of pain that would not subside.
The prescription is rest, ice, and ibuprofen.. So far this has worked well and it feels much better except for a nagging ache but i can live with that. I was also informed by the doctor that we may need to take it to the next level and get an MRI and physical therapy to really address the problem as well as assess the situation.
I'm all for it. I'm tired of dealing with it.
This whole episode has left me feeling like my warranty has expired along with the stark realization that I am not bullet proof any more.
Kind of a hard turn to go from epic to this in jut a few short months but it is what it is.
The other difficult part is that I have learned many bad habits over the years that i have been able to train hard and burn tons of calories. I have learned to take take liberties without consequence due to the fact that it was offset by my workouts, thus striking a happy balance.
If you are familiar with Looney Tunes, Foghorn Leghorn and the Dog is the perfect example of what I am talking about..
For those not familiar, here is a pictorial....
Foghorn Leghorn is a barnyard rooster that loves to harass the dog any chance he can get...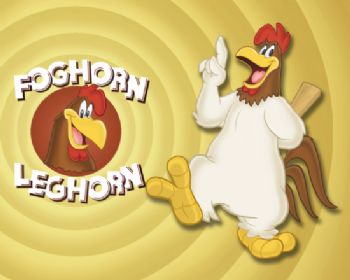 favorite trick is to come up and spank the dog then run to the edge of the leash limit where he cant be touched....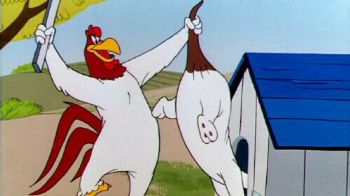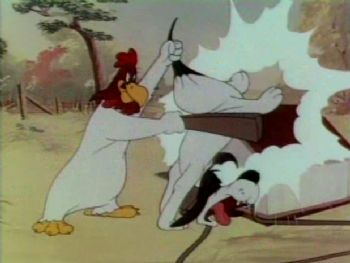 Dog runs to end of leash limit and chokes, hangs himself, or just gets frustrated at his inability to exact proper retribution...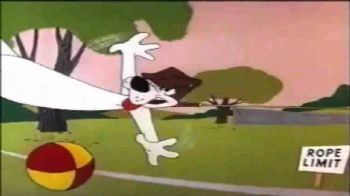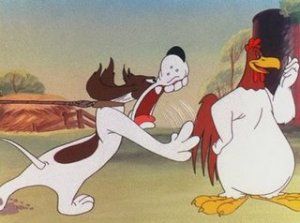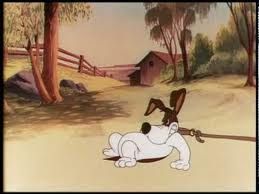 but once in a while the cocky rooster gets clobbered when the dog gets out of his leash or gets a longer one....
OWNED! - Dog delivers nasty surprise to the rooster...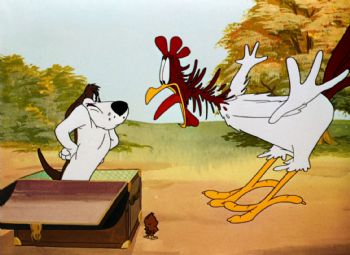 That is a pictorial description of the sloppy habits that I have learned over the last several years of training. Without realizing it, I have learned exactly what I can get away with or where the "leash limit" is so I will unconsciously come up, "pound the dog" (or eat the pizza) then run away knowing that it cant get me because of the sheer number of calories burned in my workouts and it worked :)
Well all of that is over. I am no longer shielded from folly by sheer intensity any longer. I've been owned a few times on the scale but not too badly. Just enough to realize that I am no longer calorically bullet proof.
Anyway, I am trying to get back to old fashioned tracking and operating within my new range of limitations.
What has ALWAYS worked for me in the past is to sit down and clearly identify those things that I CAN do within my current situation and then go after them. Nothing triggers depression faster than to feel like your time is wasted on things that do not move you closer to what you value most, where the clock and the compass are misaligned.
When I identify what I CAN do and accept the parameters that I have to operate under and understand that they are beyond my control, then I can focus on what IS under my control. When I do that, I have my power back. When I don't do that, I am an aimless victim.
I didn't get to where I am at by wandering in circles. Neither shall allow myself to be dictated to by circumstance lest I become a habitual whiner and professional sympathy monger.
Its one thing to take a tumble, it's quite another to feed off the sympathy of others and live in a perpetual state of boo hoo.
I'll take progress thank you, no matter how the package is delivered