Saturday, November 09, 2013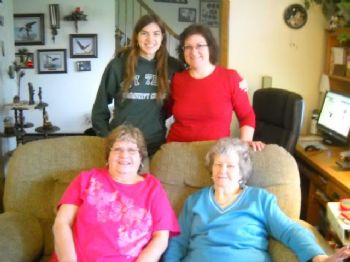 Grandma went peacefully into the arms of Jesus Friday evening with a house full of family. She'd been diagnosed with pancreatic and signet cell cancer in late September. Our God is a MIGHTY God!! He answered our prayers for little pain. He answered our prayers for a peaceful sleep into the arms of Jesus. The blessed bonus was a house full of children, grandchildren and a great-grandchild around her. She was still full of spunk until Wed., also a huge blessing.
Her mother died of childbirth complications when Grandma was just 2yo and I can't help but think how wonderful and sweet that reunion is. She was a part of an original Yours, Mine, and Ours kind of family while growing up during the depression and WW2 with a total of 13 siblings, most of whom she is now having a huge reunion with. I can see her giggling, teasing, and being silly with a Great-granddaughter who died in a tragic motorcycle accident 10 years ago.
Grandma had 6 children, 12 grandchildren (several step), 36 great-grandchildren (including 1 due in March and several step), and 5 (so far!) great-great grandchildren.
This is the Grandma who was my faith Seed Planter by faithfully taking me as a child to Sunday School, church and VBS. My fondest memories are of her singing hymns with the radio as she went about her housework when I'd stay overnight many weekends.
Well Done, Good and Faithful Servant.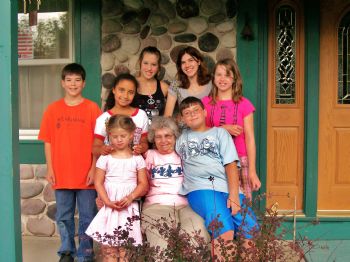 Grandma with just a FEW of her great-grand children (a few years ago)