It's about time
Saturday, November 09, 2013
I have been a member of SparkPeople now for 2 years and I guess it's about time I finally wrote my first blog (ever, not just onSparkPeople). I have some struggles with my weight most of my adult life, but worse after having kids and much worse after menopause (@42) plus some health issues that kept me sedentary for years.
I have lose a total of 60. Most of that weight loss was I the first year or so. I have been on a major plateau for the last 6-8 months gaining and losing the same 4 pounds over and over. I have been working more hours with less chance to work out. My daughter got married this past June so I then lost the motivation to not be the "fat" mother of the bride.
A friend of mine posted some pictures on his Facebook page of a gathering at his church from several years ago that I was tagged in. My first thoughts was who is that huge woman I the purple and it suddenly realized that it was me. I guess I ever realized how different I look now. I sent the picture to my daughter and told her I didn't remember ever looking like that. She of course came back and said things like " I think it's a bad camera angle" etc. I said no I was just in denial and didn't ever look at my self I the mirror.
She then sent me a picture of then and now together and said " you've come a long way mom" *tear*.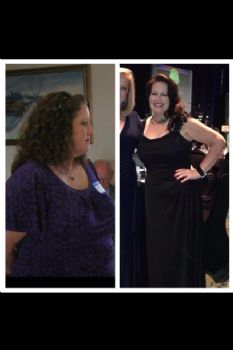 I think I just found the motivation I need to keep going ! I will keep you updated.