Took the RV to Savannah yesterday for the big day on Saturday.
We had a little excitement on the way, a dump truck spit out a rock which put a nice crack in my windshield. The third time this has happened in my many years of driving. Each time the rock came from a gravel hauling dumptruck. Should be okay, I have free windshield replacement on my insurance policy.
Got to the Expo and picked up my race number, swag bag and T shirt. It seemed much larger than last year. Lots of vendors. I snagged a nice Publix bag and small plastic food container for free. DW's favorite grocery store is Publix, so that worked out well.
I didn't do much at the Expo, just kind of breezed through and returned to the RV, and then drove to the Savannah Visitor's Center, where we will be parked overnight. There is a small fee for RV parking, and I don't mind 'roughing it' a little.
So, DW and I relax and enjoy each others company before race day. Being retired and not having a huge disposable income, I value the money saved as well, a few hundred dollars that I won't be spending at the much more comfortable, I'm sure for many, hotels in the area.
Here we are in the Savannah Visitors Center: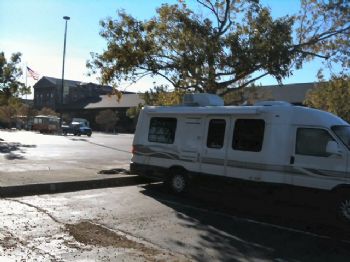 Here's the contents of my race packet, received yesterday.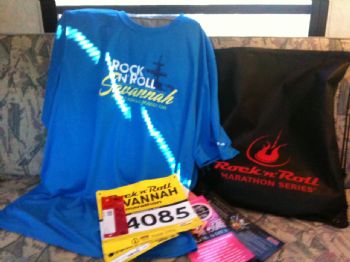 I'm feeling relaxed and ready to run tomorrow. Today we'll do some leisurely strolling around the area. I have my two Boston Terriers, Barney and Bitsy, so they'll get some exercise as well.
I had some time this morning, and a decent wifi connection, and was thinking of all my sparkfriends. I thought, why not post a race prequel? So, here I am.
Thanks for reading, I'll be posting race results as soon as possible, and have a great day.