Friday, November 08, 2013
Yesterday night was rough. I'm still not speaking to my husband even after he tried to talk to me. Now I'm mad for another reason. He almost triggered a binge. That is not cool. I can take the fact that he never believed in me to succeed. And I can't blame him for wanting the old me back sometimes because all he wants is to binge on pizza or Chinese food with me. But to drag out a situation after causing it in the first place knowing I would seek out unhealthy means of coping is crossing the line.
He misses the old me. But the old me is gone. The late night fast food runs are GONE. Those of you with supportive significant others should consider yourself extremely lucky. It's like he wants the girl that eats whatever and can just hang while at the same time look like a damn supermodel.
Men, am I right?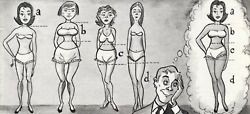 Today I have the day off from work. I am planning to go visit my parents since they will be gone all weekend for the trip I got kicked out of. Can't you just FEEL the love and support I get from everyone around me? Then I have to go by a craft store for supplies. On November 21 a group of coworkers and I are going to the premiere of Catching Fire and we're wearing matching shirts. So I have to put on my Martha Stewart game face on and make a theme shirt.

Lately I'm just growing more and more restless with Medifast in general. I'm happy with my size and it just doesn't seem worth it anymore. Tomorrow I have the Farmer's Market plans with my friend. She wanted to get brunch at Another Broken Egg. Of course I can't. Maybe I left my solitary land too early.

Looking at the nutritional menu for that restaurant... ouch! French toast 1270 calories!!!! Somehow even the spinach salad packs 647.

It's a frustrating time right now.