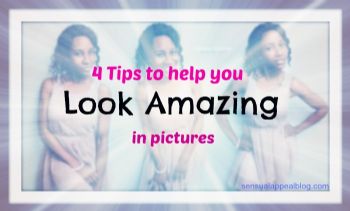 Hello everyone! My name is Kammie and I am a healthy living food blogger over at Sensual Appeal. Aside from blogging, I also do photography. I have been doing freelance photography for about 5 years now and I mostly do portraits, boudoir, fine art, and events.
Since the Holiday season is coming up, itís inevitable that the picture taking opportunities will arise. Being with family and friends on the many occasions coming up will bring many memories to have captured. Iím here today to talk to you about some tips that will help you look amazing in your pictures!
1. Consider lighting
If you are taking a picture in natural lighting (aka without flash) make sure to take into consideration where the light is coming from.
Are you outside and itís sunny? Donít take the picture while youíre standing in direct sunlight Ė this will cause harsh shadows in your face and you will not look your best. Instead, find a place outside that is in shade and take the pictures there, this will create a much more soft look without any harsh shadows.
Are you outside and itís overcast skies? Perfect. This is the optimal lighting situation for naturally lit pictures!
Are you indoors and the main source of light is coming from a window? Donít get a picture directly in front of the window (with your back to it) because the light behind you will seem too bright to the camera and you will not be visible. Instead, move away from the window a little bit and face it. Have the person taking the picture stand where the window is and take the photo from that position.
Using the natural light to illuminate the front of the body and the front of the face to smooth out and hide imperfections
A great tip that applies to both natural and artificial light is to turn your front towards the light, every time. If you are standing sideways with a few people for a picture and you know the light is coming from the left side, then make sure you are standing in a way so that your face is towards the light. This will make sure your face is lit in the most flattering way possible. Always turn your face and body towards the source of the light.
2. Keep the right posture
While there are many poses you can do, you should remember that having the right posture is very important as well but make sure you donít overdo it. Donít suck in your stomach hard because itís obvious youíre doing it unless youíre standing with your side to the camera. When you suck in, your chest expands, you look wider and your neck does this hole thing in it so itís obvious that you have sucked in. I looks unnatural.
Instead, keep the right posture. Stand up straight (but not overly straight like a robot cause thatís just awkward), put your shoulders down, relaxed and away. Lift your head up and with the chin a bit down, this will eliminate any double chin.
3. Practice makes perfect
You probably might have not expected this but the truth is Ė there is not one universal tip for posing because we all look different. We all have different body shapes and sizes. Some people want to look smaller in pictures, while others want to accentuate their curves. It all depends on the individual.
What you have to do is practice. Take pictures of yourself when youíre alone and practice different poses. Do it over and over again until you find the few poses that you think work best for your look. Figure out what is your better side and try to take pictures from that side.
Practice smiling, with teeth and without, doing silly faces, doing everything. This way you know which face to do when necessary and you will automatically feel a lot more comfortable getting a picture taken because you know you will look good Ė duh, youíve practiced enough
4. Angle of shooting
Some basics for taking pictures Ė take them when the photographer is straight on and at around your height. If itís from a higher angle than you are, even better Ė this will make you look thinner. But make sure itís not from an awkwardly high angle either because that will look unnatural.
Try to prevent having your picture taken from a very low angle as this can add several pounds to how you look. Unless itís a professional photographer and you are doing some sort of a creative photoshoot, try to avoid shooting from below.
So there you have it! These are some tips to help you look amazing the next time you have pictures taken! Remember, if you are getting pictures taken by an already amazing professional photographer, just let him or her do their job, they likely have their own ways of posing you and will do it so that you look the best. Trust them. But these are great tips to consider for any other time!
If you are interested in checking out my photography you can see my portfolio and make sure to like my photography page on Facebook!
For delicious and healthy recipes, health tips, and more Ė make sure to check out my healthy living food blog at Sensual Appeal
Blog: www.sensualappealblog.com
Like me on Facebook: www.facebook.com/sensappeal
Follow me on Twitter: www.twitter.com/xokammie
Now itís your turn..
Do you have any photo tips or your own?
Leave us a comment below!
Kyra,
The Get In Shape Girl