Thursday, November 07, 2013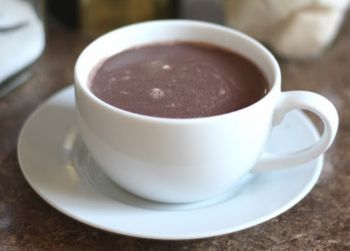 Every year during the winter/fall I go threw a hot chocolate phase. I'm sure I'm not alone on this one! The hot cocoa powdered mixes always tasted funny to me and the recipes for homemade hot cocoa always had WAY to much sugar.
This year I figured out a way to have my "homemade" hot cocoa without all the sugar - but also taste delicious and cruelty free
Recipe: Vegan Hot Cocoa
ingredients:
*100% cocoa powder
*Vanilla almond milk
*Mug
Directions:
1. Add 1 heaping tsp of 100% cocoa powder into mug
2. Add 1 cup of vanilla almond milk into mug(DON'T MIX YET!)
3. Microwave for 1:20sec.
4. Mix all together and enjoy
Note: You may have to heat it up again for 25sec. after mixing if it's not hot enough for you.
Nutrition Facts:
Calories: 90 calories
Fat: 3g
Carbohydrate: 17g
Fiber: 3g
Protein: 2g
Sugar: 13g
Cholesterol: 0mg
Sodium: 150mg
Potassium 180mg
Hope you enjoyed!