These were too incredible not to share from my sister SABLE77:
The tree: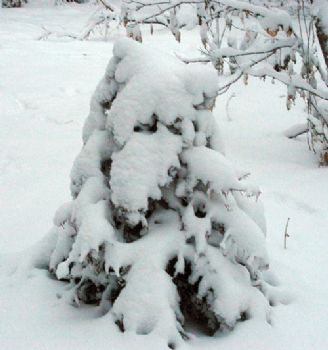 Frosty branches: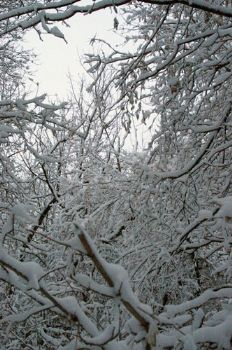 Snow Dogs young Cassie and Micky: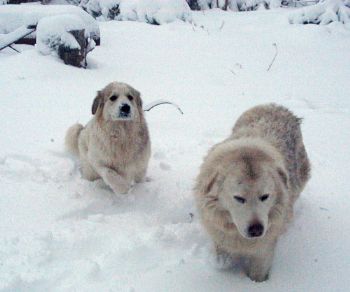 Another chilly, icy day here.
Mom had a serious fall yesterday, hitting her head face first on the ice. She blacked out temporarily and then was dizzy. Some good Samaritans helped her to their car and took her home -she refused to go to the medical clinic! So stubborn!! She has quite the knot on her forehead and has been icing and resting, at least for the day. She felt no ill effects today other than a sore arm. She couldn't remember how her arms were positioned when she fell. I guess its a blessing she didn't break anything. But I did give her dire warnings to be aware of any small change in how her body functions. My Nurse Practitioner said she knew this woman who took a fall and then died two weeks later of a slow brain bleed :( She said the symptoms can be very subtle similar to a pre stroke.
This is the second time Mom took a fall. Last year, she injured herself internally so much so, the pain and discomfort lasted a year :( But she still gets out there twice a day with her young dog, no matter how bad the conditions are. This is only the start of winter too!! So distressing. She won't let my step dad touch the dog -she feels he would be worse off if he fell and doesn't think he would look after and train her properly, which unfortunately, he wouldn't. He gets distracted easily and doesn't pay attention to what the dog might be doing. This week there was a report of bad meat making dogs sick at the run (not poisoned -but likely crap people throw out) I didn't think either of them should be looking after a young dog and there were so many people offering to give Daisy a good home, including two vets living on acreages!
I am trying to hold the line against my ever failing body, but some days its hard to want to continue on. I am frustrated already being stuck inside with it being too dangerous to walk anywhere. I am lucky to make it to the club in one piece. A lot of the sidewalks have been looked after properly, but not all, the driveways are horrible as are the street intersections. Wearing the shoe picks would be okay except they are not so good on the open cement areas, so its a trade off. Right now there are more cement sidewalks to traverse than ice covered ones.
I did not do as much exercise as I wanted, but am feeling my muscles from the morning weights so gave it a pass this evening and washed dishes, dancing to the music instead.
Keep on going, its all you can do, one wobbly foot in front of the other!