Wednesday, November 06, 2013
I wanted to share this story.
I had pre-planned my menu this week, and today was Easy Slow Cooker Taco Soup (link below). It was 8:03 a.m. and my 8 year old daughter and I were on our way out the door when I realized I forgot to put ingredients in the crock pot.

At first, I thought forget it, will do something else, then I thought, no I can do this!

Grabbed the Crockpot, started opening cans, and told my daughter to start emptying cans in the pot. Thankfully, she loves to help. By 8:10 we were out the door and I dropped her off at school at 8:15 with two minutes to spare (school starts at 8:17). We did it and I did not feel stressed about it....really! Yes, I usually have her to school much sooner, but this was ok. We were not late.

I came home for lunch (leftovers). The soup smelled amazing. I was so excited.
My daughter and I just tested it because we could not wait. WE LOVE THIS SOUP! Now waiting for the ultimate test.....sitting here waiting for my husband to get home from hunting so we can eat as a family. I hope he likes it as much as we do. Mexican food is his fave!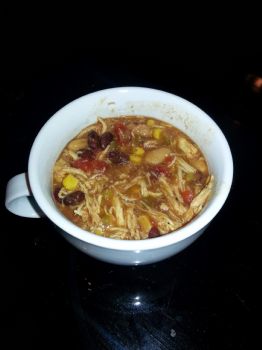 recipes.sparkpeople.com/
recipe-detail.asp?recipe=4
86329