Wednesday, November 06, 2013
Now that I've been tracking my meals and working out regularly again, I'm starting to feel the difference. It's always difficult to get started but once you remember why you're doing this in the first place, it's so much easier to keep on going. For the entire summer I felt like I was looking at my life from the outside. I felt powerless to do anything to change things. Like some of you know, I've had some difficult things to work through in my personal life, and that added to my frustration. Now I've finally learned to put myself first and I feel a million times better for it. I know I deserve this, and I know I will reach my goals.
I want to make myself proud again. I already am proud of myself for so many things, but I want to be proud of myself for losing the rest of this weight, too. My goal is to lose six pounds by the end of the month and I know I can get there. I can't wait to update my weight loss ticker in a few weeks and see that notification that says "MYLOVELYCURVES lost 3 kilograms!" :) Just thinking about it makes me feel motivated!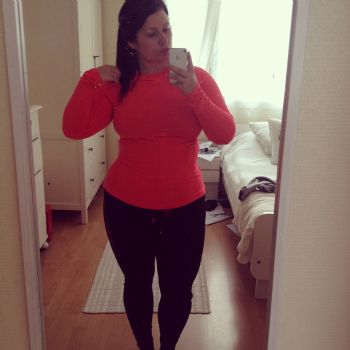 (That's me today, ready for my run!)