If you read yesterday's blog you will probably have guessed that this begins with lentils!
Well, I didn't think I had time to sort it yesterday, but I made time. I carefully picked all the beef out of the lentils and started again with vegetables and curry seasonings, then added a SUBTLE amount of the lentil mix. By the time I left the crock pot was beginning to smell as though it was cooking and the rest of the mix was suitably ensconced in a few containers in the 'fridge.
This morning I was faced with the task of 'conversion'. I divided it into three parts. The first has been cooked with some vegetables and blended. The first serving of this was at lunchtime - and I thoroughly enjoyed it (I told you I liked lentils ) There will be more tomorrow - and the day after.
The second part was cooked with a different mix of veggies, and the third had a similar mix as the curry veg added. Part two is in the freezer to be served as soup in the not too distant future - and nearby is the last portion. This has been suitable subdivided into 'curry' portions. Next time I need Subtle lentils in a curry I will grab one of these and add it. Next time I buy lentils I won't buy a 2kg bag....... just in case

I had to visit a friend this morning. It was a quick visit , but it was a good chance to walk in the rain. It was in another part of town to the one I showed you on Monday, and an equally busy road, but much safer walking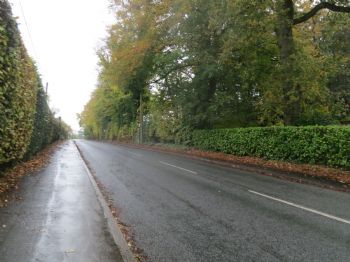 These householders like their fence, but try to make the view a little better for passersby by planting flowers along the front.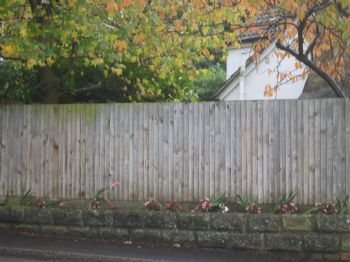 I tried to take more pictures, and wondered why so many of them looked like this
.... then I realised that I had inadvertently clicked the zoom, but of course wasn't allowing for it in my 'from the hip' compositions.
The walk took me past a local tavern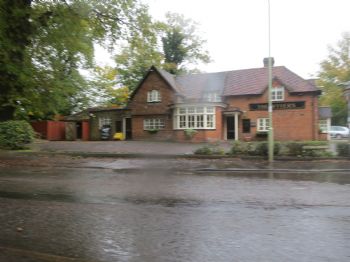 Fortunately I could avoid the big puddle that had appeared on the opposite side of the road.
I have to admit that I don't like walking along roads. I would certainly walk in our nature reserve or along the canal by choice, but over the past week this hasn't been possible, and all my walking has been along such pavements. We are very blessed to live in a clean, friendly and safe area so the only dangers are those from passing traffic - and as long as commonsense is observed the traffic just passes.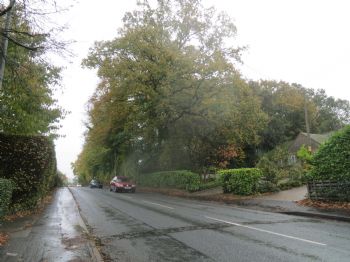 I've been doing a lot of thinking while I've been walking the last few days. I'll share it with you tomorrow. Walking is my thinking time - but the thoughts I had have been unexpected.
Have a great rest of the day, Sparkeroonies. Onwards and Upwards.