Ever have one of those days where you say to yourself, "Man, I really need a good butt kicking today!"? Yeah, most people don't lol
Well, I had one of those moments today. I found this gem on fitnessblender.com:
www.fitnessblender.com/v
/workout-detail/1000-Calor
ie-Workout-HIIT-Cardio-Str
ength-Kickboxing-and-Abs-W
orkout-to-Burn-1000-Calories/gr/
This workout is no joke! There were multiple times where I wanted to slow down or stop, but I wanted to push myself and be able to post my blog today and be proud of what I accomplished. How uncool would it be if I posted this link, but had to caveat that I only did half of the workout? (I'll tell ya- VERY UNCOOL!) I know I didn't burn 1,000 calories, but probably burned somewhere between 400-500.
Onto the hike...
Something interesting happened to me on Saturday about 2 hours into our hike. We hiked down the peak after our snack break and then started a really steep ascent up to the next peak. When I say really steep, I mean like .5mph, calves burning, can't catch your breath steep. I was doing the 'one foot in front of the other,' and concentrating on my breathing. I had this weird surge of motivation and mental clarity, like I was supposed to push my body harder and further than I thought it could go. Like I should take myself to places I'd never seen and experience thing I'd never experienced. I'm not really one of those people who gets all philosophical, but there I was, having a moment on the side of the mountain.
I told DH about if a few hours later after we'd gotten through the ridge trail and into the valley. And I told him I wanted to sign up for another half marathon and continue to push myself. Of course he was his usual supportive self.
The purpose of that, I guess, was to put my "need a good butt-kicking" into perspective. I love that moment when I realize I am past that place where I thought I could go. And I want to be there more often.
Pictures:
Packing up after the first night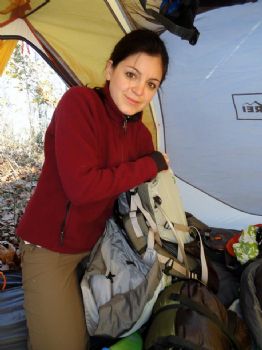 View from our first campsite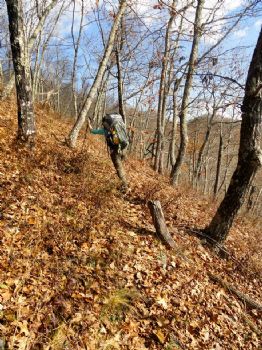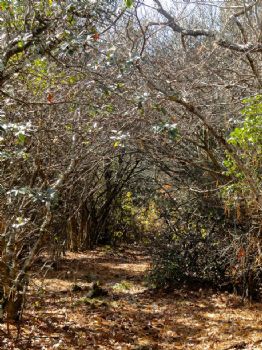 One of the 15ish river crossings (thankfully, it was really low!)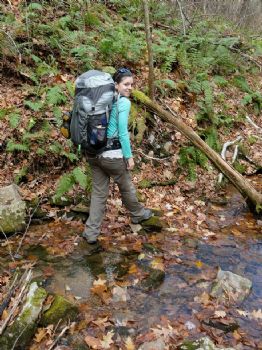 Testing out the stone chair and table at our 2nd campsite
Dinner (Old El Paso makes these microwaveable packets with chicken, rice and beans. Boiled the packet, added some string cheese and folded it up in a tortilla)