Tuesday, November 05, 2013
I got to wear my new leather jacket to work today.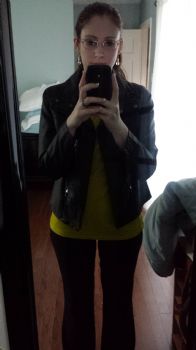 I am so craving Thanksgiving food right now. Everyone is already talking about what to cook and I'm just literally salivating at the idea of mashed potatoes right now. I want a giant bowl of mashed potatoes covered with a layer of mac and cheese and topped with a final layer of green bean casserole. OMG.

...

Unofficially weighed myself just now at 5 PM and I'm at 141.2 lbs. Maybe with some miracle I will be at 140.8 tomorrow? Can I be naked on the scale?

I am so bitter that my weight is counted at 5 PM in full attire. I mean, come on! Ugh.
I'm changing my weigh in's to Saturday mornings. The clinic where I go is located next to four separate shopping plazas and a mall. I am NOT going to be stuck in traffic for 2-3 hours near Thanksgiving trying to get weighed. Just, no. Plus, on mornings I'm thinner lol.
Yesterday my boss dropped a bomb on me that I have to attend this 2 day training 20 miles farther than I drive now with some random mandatory pizza party for team building. I was very highly upset. First of all, this training is a giant waste of time. Secondly, I just started a project that will take weeks and now I'm just randomly stopping for 2 entire days. Thirdly, I don't feel like driving so far away. And lastly, screw this pizza party. You would think that the entire world will instantly implode in on itself if we had one single convention, conference, training, seminar, or meeting without a freaking cookie or pizza or candy present. End of the freaking world!

I'm PMSing so hard right now. Last thing I want to do is workout. Ugh.