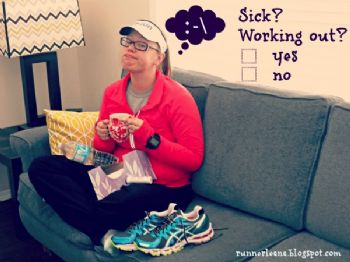 Starting feeling sick around last Friday with a sore throat, still felt good so I did a treadmill workout and took a long walk on Saturday. Sunday was my long-ish run of 4.5 miles and I was on the fence about going, but went anyway. It's been downhill ever since when I popped a fever and started coughing, lol.
It's important to me to keep exercising for mental and physical health, but I also have a couple of scheduled (read: paid for) races coming up. So I got a little panicky, because the last time I was sick has actually been a few years ago.
Exercise in general can help boost your body's natural defenses against illness. Thirty minutes, three to four times per week has been shown to raise immunity by raising levels of T cells—woo-hoo—which are one of the body's first defenses against infection.
So exercising with a cold may be OK, but if you've got a fever, it's a definite no-no. Fever is the limiting factor. Raising your body temperature internally if you already have a fever, can make you even sicker.
From WebMD: "Do what you can do, and if you can't do it, then don't," he says. "Most people who are fit tend to feel worse if they stop their exercise, but if you have got a bad case of the flu and can't lift your head off the pillow, then chances are you won't want to go run around the block."
Neck Check: if your symptoms are above the neck, it's okay to exercise: Sore Throat, Nasal Congestion, Sneezing, Tearing Eyes,
If below the neck, then lay low until recovered: Coughing, Body Aches, Fever, Fatigue
Remember: An uncomplicated cold in an adult should be gone in about 7 days.
And if you're wondering about running while sick, SEABREEZE63 recommended this great article from Runner's World. Here's the link:
www.runnersworld.com/hea
lth/should-you-run-when-yo
ure-sick?page=single
The tide is turning and I feel a bit better, but I think the dog and I have a date with the couch this afternoon and a bowl of soup. She won't mind.