Blog a day day 6
Tuesday, November 05, 2013
What is your favorite physical activity overall at the gym

this is a

Hard question

for me to answer I do go to the gym. BUT
My favorite active is walking. But to answer the question about the gym itís the Octane The gym just bought one at the encouragement of the trainers. Ours is like recumbent bikes you can work your arms because it set up like the elliptical too you can do laps different programs still have not used them all yet but have my favorites all ready. Its great because you can do so areas all at once. I also like working on my balance by using the half ball and standing on it to strengthen my core also have started doing squats while standing on it but make sure I am close to grab onto to get my balance since I just started this one trainer said it takes a while and she still stands next something to grab on to her self.
But I really enjoy walking.
Out side in nice weather is fun but some days like today Mall walking is on the list for the long walk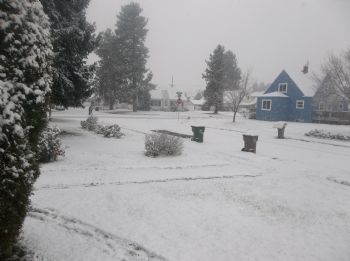 This is what I saw this morning when i got up

Mall walking is great too that way I can get mini works outs done on the benches our mall opens at 7 for walking so I can use the benches for simple mini work outs . if I go after the mall opens I just walk.
I am very lucky I can park at the Mall get my walk in and then go to the car get my gym bag and do another loop at the Mall and then a short walk away is the gym . decided that why move the car for a short two block walk. Its fun watching the steps add up my pedometer. Lost my favorite one while dancing in with the leaves but have a spare thankfully and just think Christmas is just coming soon. Remember reach for the stars and do something nice for yourself today Happy Trails team mates. time to put the shoes on and get my self moving it election day and want to vote and get and send that little voice sliding into a snow small snow bank