I have so many updates to share.
1. I got a new job. Double the salary, much more peaceful office atmosphere. SUPER awesome. Way less stress.
2. Been really good about working out, and feeling good about that.
3. Signed up for a Brene Brown art journal eclass that she put on with Oprah, and I am in week 3. Would highly recommend it!! It is a mix of art (you don't have to be good at it), reading (The Gifts of Imperfection) and all sorts of corny exercises that produce art journal pages that tell you a bit about yourself. :) haha my kind of class! There are 3 more weeks left so I am liking that!
Here are a few of my pages:
Assignment: Give yourself permission for things that you are normally hard on yourself for:
Assignment: Take a pledge saying you are imperfect and still enough (first page) and then draw a heart and put the names of people who have earned the right to hear your story in an envelope (didn't have one, used a bandaid lol) (page 2):
Assignment: Find a picture of yourself that you feel is authentically you: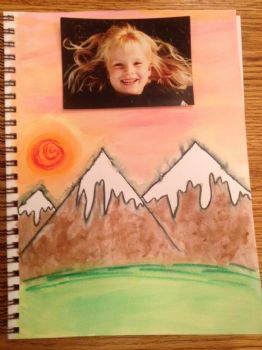 Assignment: Look at that picture and answer the following questions
a. What do you see when you look at him or her?
b. What do you love and appreciate about him or her?
c. What makes his or her light shine?
d. What can you do to take care of him or her?: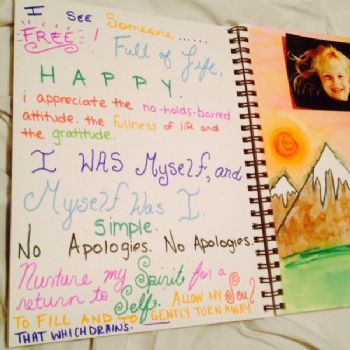 Assignment: Think of a time where you used negative self-talk, and replace it with what you wish you would've said: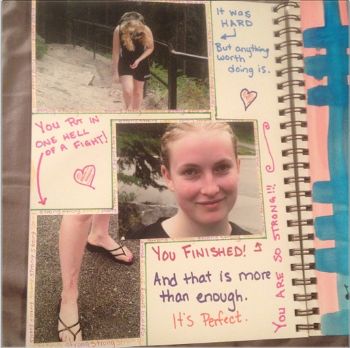 In this particular case, I was really beating myself up for not keeping up to Tommy (my husband) on a 5 hour mountain bike through the Rockies (more like up the rockies). We spent about 4 hours and 50 minutes biking straight up, and then 10 minutes coming all the way down. My bike and I landed at the bottom at different times (mangling my leg). What I didn't think about at the time was that Tommy was being paid to be an athlete during this time, I was not, and it's really not a fair comparison. The facts are, I did a MASSIVE mountain bike ride and should be really proud of that, not focused on how slow I was!
A question:
I did something funny to my knee on the stairmaster a few days ago, and it is getting noticeably better every day, but I don't want to bother it too much. Keeping in mind I have all of Goodlife gym at my expense, which workouts should I try that will keep me on track but not bother my knee at all?