There's a lot going on in my life that I will talk about later, as I just don't have the time right now. But, I will talk about something kinda funny.
When I got Mocha at 4 months old he was but a tiny little thing, and was a 'squatter'.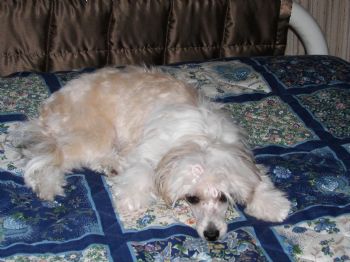 Mocha, full grown.
Later - even though I got him fixed before he ever started it - he became a 'lifter'. A 'high lifter'. So I had to build sides on his indoor potty station. I built them 9.5 inches high, which being that was far taller than he, I thought that would be high enough. Well he grew and grew, and he seemed to take pleasure in seeing just how high he could 'lift'. And, so usually he never got anything in the 'potty station', as it all went over the side onto the floor.
We have had many an 'issue' over that. And, me trying to get him to go IN it, instead of over it. And he, being an insecure dog in the first place, just became scared of what was expected of him, but he did get the message that he was 'failing' to do what mama wanted. He also has a a very willful and stubborn streak, which only complicated things more.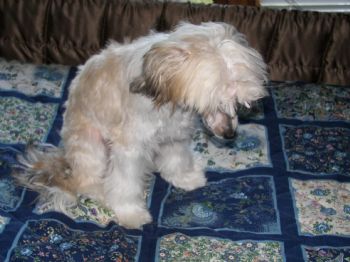 So, there has developed a real 'contest of wills' between us; with him refusing to 'potty' when I tell him, and the very moment I turn my back he will run to the 'potty tray' and pee as fast as he can. OVER the edge.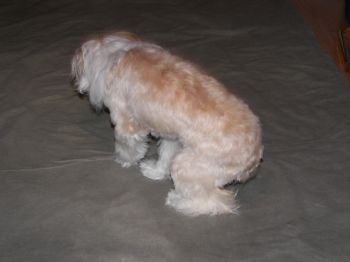 Or he will just even stand in front of it and pee AT the tray. Soooo, I have spent a whole lot of time cleaning the floor. And being utterly frustrated with him. And, between this, and his still waking me multiple times a night - cause he hates being crated (but I have to crate him cause I still can't trust him - even after a year and 9 months) - well, there are still quite a few times where I STILL regret ever getting 'the little beast' (said mostly affectionately, cause other than these 2 issues he is a really excellent dog. In fact I think he may turn out to be about the best dog I ever owned if I can survive these issues. LOL).
Anyway, so about 3 days ago I built HIGHER walls on his 'potty station'. And walla, most of those problems are over!!! Oh, he still feels insecure, so he still prefers to run and do his job without me seeing. But, as he is seeing that there is no more frustration from mama (cause it is ALL in the tray - yeah!) well, he is starting to relax and not feel he has to be sneaky or concerned.
He is 12 inches high at the back. I built the walls of the station 13 inches high. He 'lifts' so high that he almost falls over on his side, but he can't 'go' over. He makes it to 11 inches high though. I had thought about only making the walls 11 inches high, as I thought that would be plenty being he has been doing 9.5-10 inches to make it over the previous walls. But, now I am glad I built the walls 13 inches. Cause if I had made them 11 inches I would still be having the problem. But, there is NO WAY he can succeed at 13 inches. Not for lack of his trying though. LOL.
Well, this solves a major point of dissention between us. And, we are both happier for it.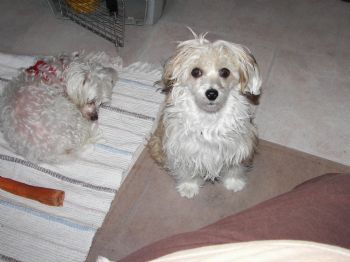 Now if I could possibly get him to be quiet and not rip and tear at his crate at night to get out. I have put him totally on the other end of the house - as directed by the vet - but I still hear him some. Mocha feels most content when he sleeps in the crate IN MY BEDROOM. Then he is a good boy. But, he is a 'flipper', meaning he flips a lot in his sleep, and being I am a light sleeper it wakes me up multiple times a night.
Maybe someday he will reach the point of being really trustworthy and then I could put him in a soft dog-bed in my room (against my allergists orders), but for right now he will still spend his nights in his crate in my living room. Poor boy… Ahhh.
Oh, Mocha has become a very talented LIAR. When he wants something Shatzi has, Mocha will 'lie' and start barking at the door as if someone is here. Then when Shatzi runs for the door, Mocha will steal Shatzi's treat. Well, Shatzi got tired of that game. And, today Mocha had something, and so Shatzi said "he had to go out", and when I got up to take Shatzi out and Mocha started to come with us, well Shatzi turned back and took Mochas toy. Two can play that game.