Recently, I went on a most beautiful fall ride. It took longer than normal simply because I had to stop and capture the small moments. The ride is along an old railroad track turned trail for cyclist, horses and pedestrians. It stretches about 27 miles one way... and crosses only one road. The rest of the ride is a study in tranquility.
This particular morning started off with a heavy fog and hardly any people. The threat of a cold fall day seemed to have stalled the traffic. The entire 27 miles was dotted with dew-ladden webs.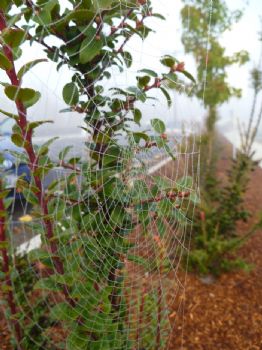 As I road along, the crunch of the leaves under my tires lulled me into thinking.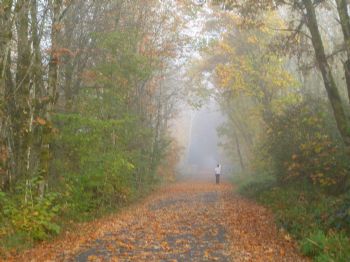 Lulled into thinking about the past year... The successes and the challenges...
The past year, I have continued with my exercise. It feels odd now when I skip a walk, a run or ride, like a gap in my life. I do not go every day but enough each week that I feel good. I have kept in shape enough to average at least 200 miles on my bike each month and my walking has increased. My running is slow and not as frequent but it still feels good. My rides and walks fill me. A success.
The past year... I have not been spot on with my food choices. For the most part, I eat well. I won't say I have a pretty typical "American" diet, but I have a sweet tooth more than anything else. My body has changed dramatically since I turned 50 a few years back but my appetite for sweets has not changed since I used to buy sweets at the corner pharmacy when I was 8 years old. My good days of eating more small meals frequently are few and far between. My schedule is consistently inconsistent so my eating habits have followed suit. My water intake is horrendous as I am constantly worried about the fact that my bladder bursts even with one glass of water.
In the past year... I stopped tracking for three reasons - excuses. First, it was a pain and I really do not like the app. It took too much time for something that I wanted to go more quickly. I got more and more irritated with the clunky tool. Second, I wanted to ignore the black and white of the numbers. Third, I was rebelling against the expectation to track.
In the past year... I lost my connection with so many folks on the website. As I stopped reaching out, the silence began to deafen. The most striking moment was when Monty died. Those who knew Monty here on Spark probably felt the huge sense of loss when he died. I retreated big time then. And the silence continued to be deafening.
And in the silence I wondered. Why does the support of others seem to matter so much if the person who needs to live well and live healthily is me. Why does the thumbs up from strangers matter? Should it matter? Does mattering mean that I can't do this for myself alone? Does mattering mean I am weak and unable to do go on this journey alone? Is this a flaw?
All of this and more goes through my brain most especially when I am on my rides. The quiet crunch of the leaves accompany the questions and hint at the answers. I feel like the answer is screaming at me and I am too chicken or maybe to stubborn to listen. And too stubborn to act.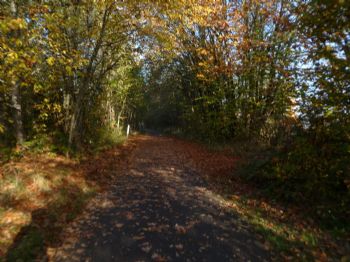 QUOTE OF THE DAY:
"Even if you are on the right track, you'll get run over if you just sit there." Author Unknown
PHOTO OF THE DAY: