So Saturday I ran my second 10k, the BuffaloRunners 10k...it benefited the site and the park it was held in....
This race has been on my mind for about a month, when I realized that my next race was Thanksgiving...and that was just too far away...but between work during the week and work during the weekend...it's hard to find time to race....so this was a perfect race day...except that the weather said it was supposed to rain....
So fast forward to Saturday....I planned to leave at 7:30 am....I woke up at 7:27.....hmm...bad start.....so I hurried, got ready, had a glass of oj and set off....following my gps...and only took one wrong turn....which was the turn into the driveway...whoops..
Anyways, I got to the race, went in to registered, and my prerace ritual of the bathroom six times...I have no prerace bladder.....I talked to the guy in front of me in the line...apparently this is a very hilly course...with like a huge hill in the middle...great...I don't like hills, I walk up hills, hills kill me....but still, I think they're trying to psych me out, so I still have a goal of obtaining a personal record, so I'd have to be better than 1:14
....back to my story though.....so my new racing pants don't have a car key holder...and usually I paperclip them to the strap of my shirt...with no paperclip, I didn't know what to do .... (Yes, I need to buy a little belt, I know)....so one more bathroom trip to tie my keys to my drawstrings of my pants....and as I came out, there was like two people in the building....seriously, did I miss the start? So I went outside and saw the mass of fifty people walking...yea, we had to walk a quarter to half mile to get to the start...so I found a woman who didn't look to serious about running...and I asked her what her perspective finish was...and she thought she'd finish a few minutes before my time...awesome, okay, I won't finish completely alone and last...so on our long and cold walk to the start, she got on my nerves, so we split ways...I'm too nervous to have to calm someone else's nerves before a race...
Okay, so the race maybe had a hundred people at it...not many...anyways, we started in the middle of a hill....the horn went off, and we went...okay, I was trying to get my iPod going, so I walked for a few seconds, and besides, I had to find my pacers......so I saw two guys who were shuffling along, and decided, okay, they were good to follow....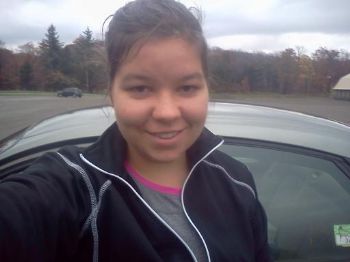 Mile 1 - 10:35
so we ran up the hill, and then there were little hills here and there, and the crowd was splitting into groups....I realized my pacer choice might not be too awesome because they were doing warm up stretches while they ran......but I was doing good running...I was having trouble breathing, well I couldn't catch my breath...which is normal for mile 1, I think my body is rejecting the fact that I'm trying to make it run...
Mile 2 - 10:12
Nothing exciting...I was doing great...steady running....we actually ran by the finish line, they were just setting up...why couldn't I be done? (Just kidding)
Mile 3 - 10:22
This is where we started the giant loop....I also powered up some pretty decent hills, I was pretty proud of myself....I also learned how to lean forward when going down a hill...I'm not sure if it's proper technique, but I decided I'd trust my body to catch me...so I would lean and let my feet just fly, you get really great speed down the hills....
I should also mention that my mind likes to play tricks on me....meaning I'm a terrible judge of distance.....since I haven't looked at my watch this whole time or heard the mile beeps, I had no clue where I was on the track...with the hills and what not, I figured I was at least four miles in...
So I was running and I could tell I was slowing down by the pacers, and yea, I lost the two guys within the first mile....so there was this long gradual hill...so I found a spot to stop and walk up....well my watch beeped...that I was done with mile three? What? I thought I was close to being done...
Mile 4 - 12:13....
Yea, walking up the hill killed me....thankfully there was a water stop at the top, so I walked a little farther...a little girl ran next to me for a few...well she was trying to catch up to her sister, and was seriously trying to beat me...so I let her go, besides, I was exhausted.....
Mile 5 - 12:13
Doing remotely good...the little girl caught up to her siblings, they were right in front of me.....we turn around the corner, and bam...like seriously...a straight up in the air hill...I mean, a serious 89 degree uphill road....I didn't even try running it....I walked, it literally took all I had to just keep going up the hill and not rolling down it...thankfully, there was another water stop at the stop of the hill...I walked a lot farther after the hill than I wanted....but my legs hurt and I was so tired....
This is where I decided to screw the personal record and try to simply keep moving forward with falling or crying....yes, there was pain....
Mile 6 - 12:11
Okay...I was ready for the end...I kept thinking that around each turn, we were going to reconnect with the loop and head back, which we did eventually..it just took forever...and there was this grated bridge which I had to walk over because I almost fell when I ran by over it the first time...I was getting super tired....all those soft downhill little spurts I went down when I started turned into these huge up hill battles that my poor little legs couldn't manage.....
As I was running, there were runners who were coming back to run with friends and support their friends and what not....abut I got bummed when I realized there was no one at the finish line waiting for me....don't get me wrong, I've ran three of my nine races where someone was at the finish line for me....but my other races I ran with my sister....well we ran it separately, but once I finished, I would run back and run with her...and even though I was exhausted and tired and couldn't run, I would still run with her and push her to keep going....and when I was running on Saturday, I just realized at the end that I only was running it for me...which made me happy, but still to know that there was no one there for you physically at the time, kinda bummed me out.....
Mile .2
More up hills....the longest bajillion mile ever...I was tired, it was a gradually steep hill....so I tried jogging but I hurt and was exhausted and bummed that I was walking and I could see the finish line....so finally, I looked at my watch....now I have checked my watch only when it beeped, so the only thing it ever showed me was my mile splits....so I looked at my watch....1:09, with the finish line in sight.....you've got to be kidding me....1:09? My goal was to be under 1:20 since the hills were killer....but I have a chance to make this a personal record....you better believe it...so with a new boost of confidence and a smile on my face...I ran my way to the finish line...
And I ran my way to a new personal record....1:10:33
I felt pretty good afterwards, downed a diet Pepsi, not Cocoa, and some donuts from a nearby Tim Hortons (yes, I probably ate more calories than I even burned,,,but I deserved them)....wore my compression socks....my legs hurt today, but it's a good hurt...I'm alive and can run after all.....
............................
...........
Of course I was super proud of myself...so proud that I posted this as my Facebook status....
After waking up late and taking the wrong road....I ran 6.2 miles in the on and off drizzle at the BuffaloRunners 10k...in 1:10:33...which is a personal record by four minutes! Did I mention the course was a trail run, with wet slippery leaves, and hills with a total elevation gain of 556 feet....all while knowing there was no medal or free tshirt waiting for me at the finish line.......yes, today, I will officially call myself a runner....
............................
............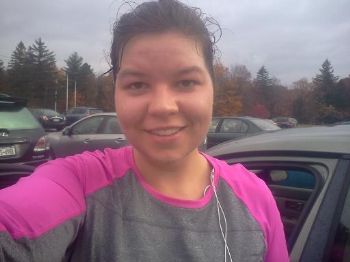 And that is what I am.....a runner