3. What is your big picture, long-term goal? Why is this goal the one you work towards?
Whoops. I think I muddled up the short, long, and medium term goals. What I talked about yesterday was my ultimate long-term goal, but let me tell you about the fairly-but-not-ultimate long term goal that really got me started.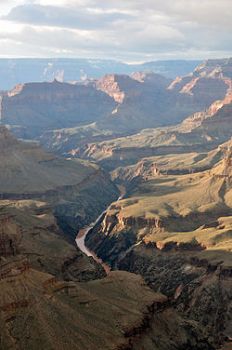 About a year ago, a good friend of mine talked me into signing up with my DH and a bunch of other crazy Alaskans for a 2-week rafting trip in the Grand Canyon in the fall of 2014. Yup, this is such a rare and rationed experience that you have to sign up for it 2 years in advance. It's billed as a hiker's extravaganza, with lots of hikes up side canyons along the way. I knew it would be a lot of fun, but I also knew the hiking would be a major misery unless I could unload at least some of the excess baggage I have been toting around lo these past 25 years or so. And then, upon signing up, came the list of physical requirements from the rafting guides:
--Ascend and descend two flights of stairs carrying a 20 pound bag without using a handrail
--Get up on top of a kitchen counter, stand up, and return to the floor without using a stool
--Climb several sets of stairs while urgently needing the bathroom
--Rise from a seated position on the ground up to 30 times a day.
--Balance a plate of food on your lap while eating.
--Suspend your weight from a pull up bar for 15 seconds.
The accompanying letter suggests "working on stamina, aerobics, and muscle strengthening between now and your trip".
It was enough to scare me into action. I'm in OK shape for my age and size, but it's a no-brainer that a smaller size and better fitness were definitely called for. And two years was a reasonable time line to achieve it.
Why do I work toward this goal? Well, the rafting trip will be a major load of good fun, a unique and thrilling experience, and the better prepared I am, the better the experience will be. And having the date of the trip for a deadline, and a big deposit down on the cost adds a no-bs urgency to my motivation. Plus, I'm vain enough to want to NOT be the fat, slobby old lady that slows everybody down!