Saturday, November 02, 2013
Imagine you have met your new short- or medium-term goal or challenge. What would you like to say happened for you while you were working toward that goal?
I guess the medium term goal I'm having the most trouble with (and focusing on the most) is the increase of my muscle mass/tone. In achieving this I would not only lose my "olive oil" arms, I would also have a thinner middle and perkier rump! I can't say this is important for physical health but I know it will do wonders for my mental health.
I would love to re-find my joy and love of free weights. In my teens and early twenties I LOVED free weights. I just can't get into it again. I want to love ST so I look forward to it.
I did make my step and cardio goals for yesterday. I was marching around the house at 11:30 last night just to get in my last 500 steps. It was a tough "squeak" before midnight but I did it. I went over calorie by 26 bloody calories! GRRR.
This morning we went to the Hot Chocolate Expo today to pick up my packet this morning. Took a couple of pictures and had some fun. I got a great shirt that says "My therapist has a wagging tail!" I love it.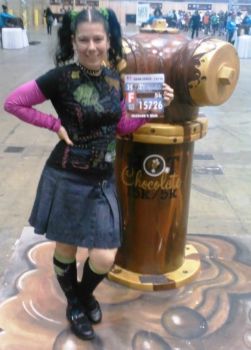 Then we went to our favorite restaurant in Chinatown. They make an awesome soy bean dish that I just love. I did indulge in a crab Rangoon but we go so rarely that I'm counting it as my treat today. I need about 1,000 more steps for the day. That should be easy. I'm pulling out the elliptical while we watch "The Abominable Dr. Phibes". I hate to admit it, but I've never seen it before. Being a Vinny and a horror fan, it is kind of embarrassing.
Looking forward to my race tomorrow. I'm not planning any sort of PR but, for me, it will mark the official 1 year point of me being a runner. This is the first 5K I ever did and I think it might be a bit emotional. We'll see.